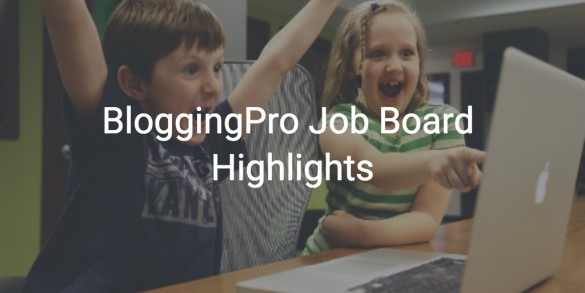 Good morning, BloggingPro job hunters.
It's back to work for all of us, and as usual, we're bringing you the best paid blogging jobs from our Job Board.
Good luck, and have a great week ahead!
Paid blogging jobs
Wanted: an experienced IT/tech blogger or writer to ghost write some articles on various tech related topics. The areas of IT/tech that need content on would be varied and change often.
Empresa-Journal an online magazine for CEOs and other business leaders, is seeking experienced writers to produce articles on a variety of subjects including leadership, marketing, startups, guerrilla marketing, and more.
Venture 4th Media has a number of coffee enthusiast and coffee equipment blogs that focus on buying guides, coffee machine reviews, comparisons, coffee bean guides, brewing tips and general coffee lifestyle.
The topics they need covered are primarily centered around Coffee equipment (think coffee brewing machines, espresso machines, ancillary equipment, etc..) as well as some more informational based articles (how-to's, brewing techniques and tips).
A restaurant is looking for an experienced Bilingual Copywriter (English / Spanish) to help update and edit its website content. This is a freelance offsite project.
EduLearn needs experienced writers from the Seattle area to complete tasks like press releases & blog posts for around $30-$50 each.
Author:
Noemi Tasarra-Twigg
Editor of Splashpress Media, writer, and geek bitten by the travel bug.