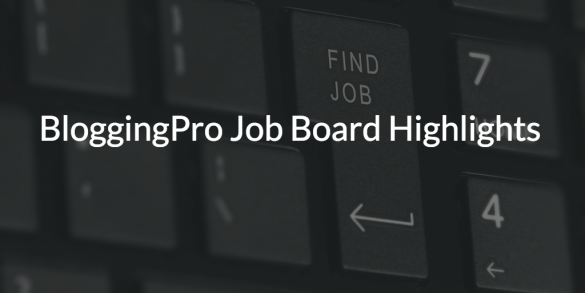 It's the start of a new month! For those in countries who celebrated Labor Day yesterday, I hope you did it in such a way that you didn't work!
I hope you left that – and job hunting – to today.
So, here are the best paid blogging jobs from our Job Board today. Good luck!
Paid blogging jobs
Prime Luxury needs an aromatherapist who is also a writer. They would like regular content for their website and also and more importantly advice on writing their recipe book. They have lots of recipes they have collated and would like them checked and tinkered with for their new book.
Are you an established blogger whose followers turn to to find the coolest speakeasy, latest art installation, or most authentic curry joint? Are you a connoisseur of local food trucks? A cool mom on the go? Does your nose for shopping deals only rival your appetite for the best underground concerts?
Joyage is currently recruiting bloggers (or "insiders" as you'll affectionately be called) to join their community of experts who curate agendas for travelers looking for authentic and local experiences.
Guns.com is a niche news website that covers — you guessed it — guns. Everything from new products to regulation to politics and more.
They are looking for a reporter to cover industry news with an emphasis on background checks. An ideal candidate is independent and self-motivated, has strong reporting and writing skills, and excellent news judgement. You don't need to be a "gun nut" or have extensive experience with firearms to apply, but an understanding of political discourse is a plus and a willingness to learn is a must.
CapitalistReview is looking to bring on an established writer who is passionate about, and knowledgeable in, all things Personal Finance. Articles will have no set number of words and will depend on the subject matter but most should be between 500 to 2000 words (less or more depending on the topic).
A rapidly growing marketing agency is looking to hire a bright content writer with choice copywriting skills on a freelance basis. A steady stream of assignments awaits the right candidate; your workload will only be limited by your ability to turnaround assignments in accordance with supplied guidelines. Since this is a telecommuting position, you will be allowed to create your own work schedule.
Author: Noemi Tasarra-Twigg
Editor of Splashpress Media, writer, and geek bitten by the travel bug.