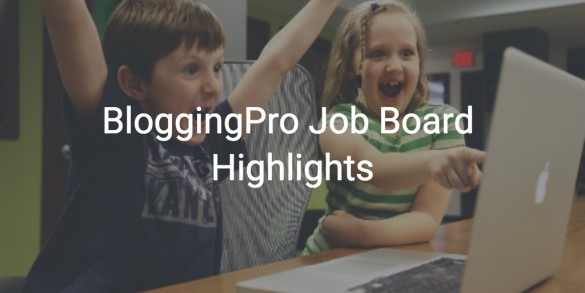 Good morning, BloggingPro job seekers.
It's lean pickings today, but there's no need to worry. We'll have more jobs for you in the coming days. For now, here are some paid blogging and other writing jobs for you to take a look at.
Best of luck!
Paid blogging jobs
Kirkus Media is looking for experienced book reviewers of English and Spanish-language titles to review for Kirkus Indie, the book review magazine's section dedicated to self-published authors. Reviews are in the same format and held to the same high standards as other sections of Kirkus Reviews.
SFG Media Group is looking for freelance writers to write about tiny homes.
As a freelance writer, you will be responsible for curating and writing an article on tiny homes (e.g. news article on tiny homes, tiny home village, listicle on 10 tiny home interior design ideas, etc).
A music blog is going to launch and needs a blogger to post content once a week.
Author:
Noemi Tasarra-Twigg
Editor of Splashpress Media, writer, and geek bitten by the travel bug.