Blogging is not going away anytime soon. It will maintain its status as one of the most important content creation, publication, and distribution strategies for businesses and individuals online.
Even more people are pitching in on the internet through blogging, making the blogosphere bigger day by day. Now in 2016, it has become so easy to start a blog that even a user who does not know about programming can start blogging with the help any of the different Content Management Systems (CMS). A CMS helps you in creating substantial blogs without any knowledge of coding.
However, CMS solves only half of the problems of a blogger. That CMS has to be hosted on some infrastructure provider and here it gets a bit tricky. A person with zero knowledge of coding might get stuck here. But there are solutions to this like Cloudways, which comes in really handy.
Blogging With Cloudways 2.0
Cloudways is the only Platform-as-a-Service (PaaS) provider which brings you so many CMS on a single click solution. Whether you wish to cater to a small but dedicated niche audience or a community of hundreds of thousands of committed devotees, Cloudways can handle every blogging need with comfort and ease, and now with Cloudways 2.0, expect the unexpected. Some of the scintillating features of the new Cloudways Platform are explained below.

Infrastructure
Cloudways provides you with the top infrastructure providers like Amazon, DigitalOcean, Google and Vultr. Cloudways aims to provide you with only the best possible solutions, that is why the above infrastructure providers were selected. Hosting your blogs on these infrastructures will not only decrease your blog's load times, but will also be able to handle requests from many users without any hiccups and gives you what you need – that is almost perfect (99.99%) uptime.
Plus, you get a super-optimized stack – designed by Cloudways – for speed called "Thunderstack". You can increase the utility of Thunderstack even more by deploying optional Redis, that you can toggle using the Cloudways Console.
One Click CMS Installation
With Cloudways, you launch a server on your choice of infrastructure and application on a single click. The ease of use and peace of mind are things that Cloudways tries to provide to its users. This is the reason Cloudways has the biggest number of top CMS apps placed in its single click installation solution. Those who don't have any knowledge of programming can sign up and easily launch an application of their need with ease.
Some of the CMS applications provided by Cloudways on a single click solution are WordPress, Joomla, Drupal, Magento, MediaWiki, Moodle, SugarCRM, Koken and more.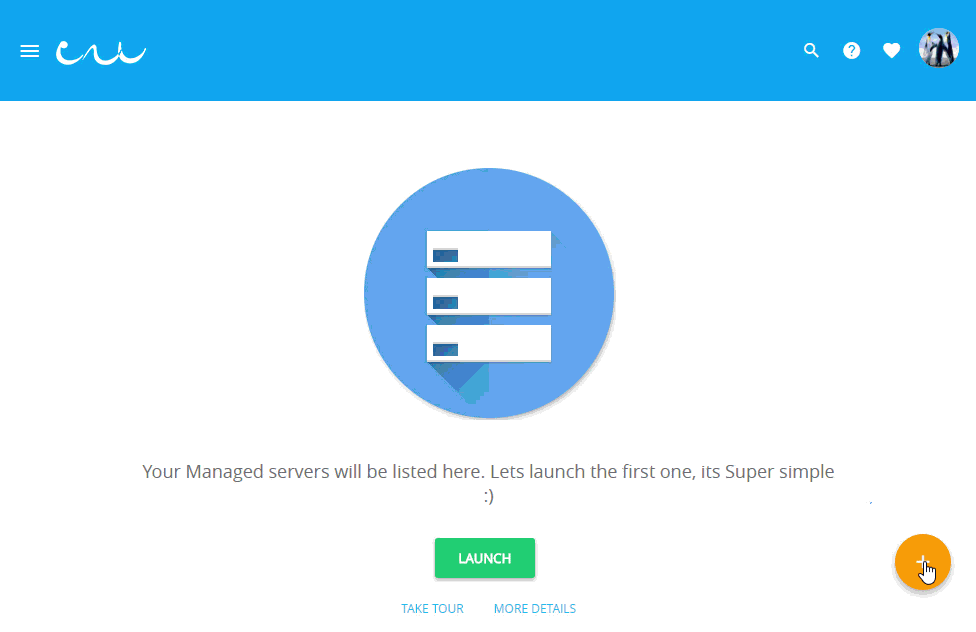 Unmatched Security
Cloudways does not leave you all alone and vulnerable on the internet. Its relationship with its customers is for eternity and Cloudways protects their customers without them even noticing.
All the security updates and patches are automatically installed on your servers so that your blog remains up and running without any glitches.
Moreover, Cloudways offers you to set periodic automated backups of your servers so that if for any reason you lose your data, you can restore it. All your backups are being stored in an offsite location to achieve the maximum data protection possible.
24×7 Support
Cloudways 2.0 is designed keeping in mind the ease navigating the Console and allows you to jump to the different features of the Console with a single click. A learning curve is involved but you don't have to worry as Cloudways doesn't leave you. Get professional help any time of the hour. Cloudways has one of the best and professional 24×7 live chat and ticketing system so that you never feel that you are running your blog all alone.
What Else Can You Ask For?
With the Cloudways 2.0 up and running, you won't be needing anything else to host your websites on a cloud infrastructure. Cloudways lets you do what you do best: blog.
Why not give Cloudways 2.0 a try? You will be amazed how much Cloudways has transformed and has incorporated a lot just to make its user's life easy and hassle free.
Sign up for your free trial on Cloudways 2.0 Managed Hosting now and get a month of hosting absolutely free.
Here's the icing on the cake…
Use the Coupon Code: CLOUDWAYS2.
This includes: Free 1 Month Hosting on DigitalOcean and Vultr 1GB and 2GB servers
Validity: 4th June, 2016
Don't miss this awesome opportunity to avail the best-managed cloud hosting for your business needs!
You might also want to read How to Build a Website for Cash-strapped Startups.
Author: BloggingPro