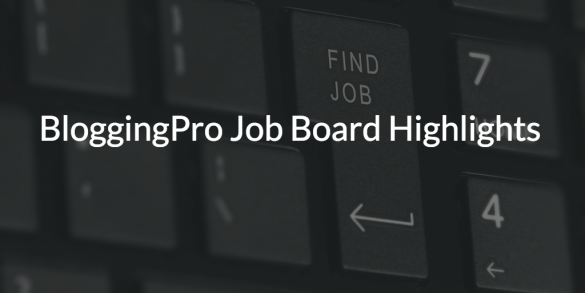 Happy Monday, everyone.
I hope you all had a great weekend and are ready to take on new clients.
Here are this week's best paid blogging jobs from our Job Board. Good luck!
Paid blogging jobs
ENGINEERING.com, the top online site for engineers, is looking for a freelance copy editor to copyedit articles on a weekly basis under fast turnaround times.
No experience in engineering is required but copy editor must possess an ability to analyze and copyedit technical information.
Articles range in size from 300 words to 3,000 words. Articles are assigned throughout the week, and copy editors are asked to turn around a copyedit within a day, if there's a rush, or within 24 hours.
CBR is looking for experienced news and features writers. Ideal candidates should be able to write regular commentary and/or list features or news posts about the latest comic book and pop culture happenings including:
— Breaking news and execute articles as needed
— Comic book news and new series announcements
— Comic book movie and TV show casting news
— Movie and TV trailers
— Engaging and informative comic book, movie or TV commentaries/analysis/list features.
The Cat Lady Co is currently looking for a blogger to help achieve their mission and to reach more people through fashion, lifestyle, pets and animal protection article on their blog.
Yoyo Chinese Inc. is looking for a blogger and social media community manager to collaborate with the marketing team to create social media marketing campaigns that help promote company's new product launches and special evente, among others.
Wonder (askwonder.com) is a personal research assistant, helping people save time by getting detailed answers and resources delivered to their inboxes by a trusted network of researchers.
They are looking for freelance researchers to join Wonder's research network. You'll work from home, getting paid to do research while learning about new topics and gaining real-life business skills. You can set your own schedule, get paid for each research request that you complete and can earn up to $20-$30 per hour. You have full control over which research requests you want to work on.
Author:
Noemi Tasarra-Twigg
Editor of Splashpress Media, writer, and geek bitten by the travel bug.