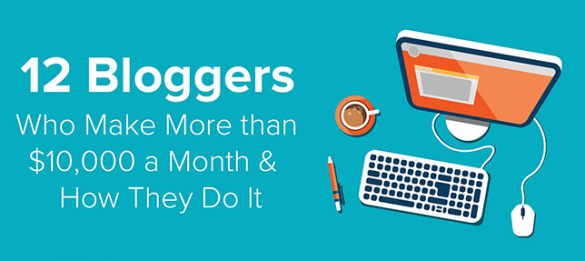 If I get a $1 for each time I read "there are many ways to create an income online" I would be close to being a millionaire.
The above statement is true but it is not an easy concept for new online entrepreneurs to grasp.
One of the easiest ways to make money online is to display advertisements such as Google Ads and get paid each time a user clicks on the ad on your site. This method sounds so simple yet it is not going to give you a full-time income unless you have a substantial amount of traffic to your site.
There are many other tactics like affiliate marketing and selling one's own services or products. The best way to learn what is best for you is by experimenting, leveraging your skills and learning from the best. This infographic of 12 Bloggers who make more than $10K a month will show you the way.
Always remember we can learn and take inspiration from these online super heroes but not everyone can replicate their success. The most important thing to learn from these blogging legends is to create something unique and build a business around it.
Most of the blogs online don't make any money but the ones that do take time to grow and find their rhythm. Determine your core identity and your unique selling proposition, and the rest is up to time and your determination to succeed.
Here is the blogging income infographic to give you inspiration and lessons.

Infographic source: PageTraffic