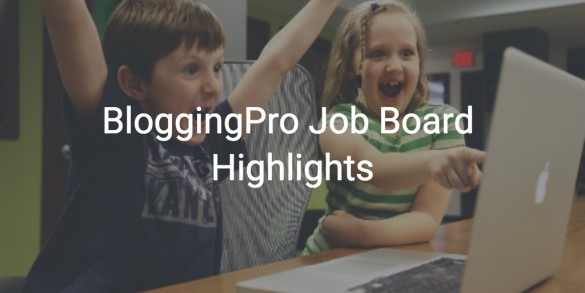 Happy Monday morning, everyone.
I hope you all had an enjoyable weekend and that you're ready for more blogging jobs.
Here are today's choice picks from the BloggingPro Job Board.
Have a great week ahead!
Paid blogging jobs
We're looking for a blogger who is an Apple fanboy — or girl — but can still appreciate the merits of Android even if they won't shout it out loud. If you don't know who Jony Ive is, you think Infinite Loop stands for an obscure mathematical sign, and you're not excited about June 13, you can close this window.
Social5 is a social media management company that specializes in the production and distribution of high-quality content for businesses in 300+ industries worldwide. Led by former newspaper and television journalists, Social5 is seeking freelance writers across the nation to keep up with recent growth. Social5 is looking to hire 4-6 writers in various capacities before June 30, 2016. A journalism background is preferred, but experienced bloggers and social media consultants are invited to apply. Preference will be given to writers who demonstrate experience in the industries listed below, as well as proficiency in WordPress and customer communication.
Strategize and create original, expertly written, and customer-oriented work for blogs, newsletters, webpages, or social media for a content marketing firm based in Miami, Florida.
We're looking to hire content writers for a suite of online courses on Marketing, Entrepreneurship, & Design.Get paid $250 / content hour to research and write teaching scripts on a variety of different topics. If you're interested in marketing, design, technology, or any number of other topics and are confident in your ability to explain what you know – this could be perfect for you.
LemonStand is an eCommerce platform that helps web developers, agencies and fast growing brands create beautiful online stores that stand out from the crowd and sell more. We're currently seeking qualified, experienced writers and bloggers to contribute unique articles to our blog. We pay on a per post basis for only the highest quality articles.
Author: Noemi Tasarra-Twigg
Editor of Splashpress Media, writer, and geek bitten by the travel bug.