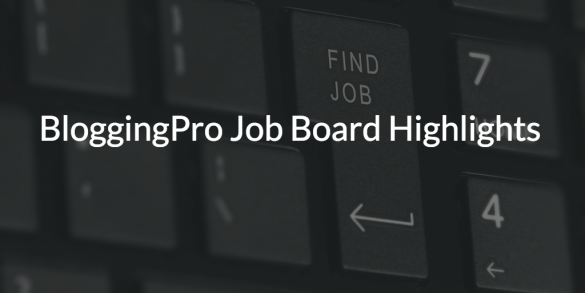 How did the weekend go? I hope you were able to recharge your batteries and are ready to take on new jobs this week.
Here are today's paid blogging jobs from the Job Board.
Happy hunting!
Paid blogging jobs
Publisher is looking for destination experts to write in-depth travel guides in English that will give readers inside knowledge into cities around the world. Articles will be about everything from top tourist attractions to off-the-beaten-path gems; from high-end restaurants to local grub; from the founding history to the current traditions and culture.
Cheapism.com, the personal finance and product-review site that helps consumers live well for less, is seeking writers for our blog, which is syndicated to high-profile partners.
They're looking for committed freelancers who can write quickly and cleanly and supply copy that is informative, lively, and well-sourced.
VirTasktic is looking for bloggers with a passion for the small business and entrepreneurial space and strong background and knowledge in the various categories. While they often assign very specific topics to be written on, they prefer to have bloggers who can suggest topics based on the various categories that are in demand and will provoke reader engagement.
SFG Media Group is looking for freelance writers to write about country style homes and interiors.
As a freelance writer, you will be responsible for curating and writing an article. Each article must be approved by an in-house editor. You will have access to their online portal where you will submit an article.
Ladue News, a weekly lifestyle publication, is currently accepting applications for talented and experienced automotive/car writers. If you are passionate about luxury vehicles and knowledgeable about the luxury automotive industry, they want to hear from you.
Author: Noemi Tasarra-Twigg
Editor of Splashpress Media, writer, and geek bitten by the travel bug.