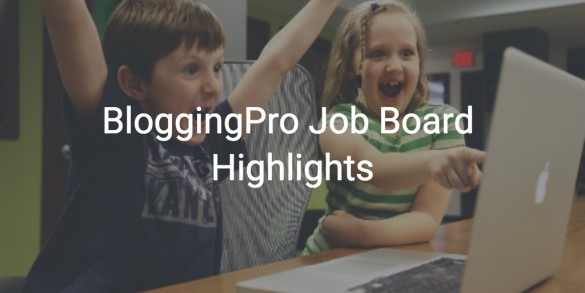 Good morning, BloggingPro job hunters.
It's that time of the week again, when we share some of the best writing jobs from our Job Board.
Good luck, and have a great week ahead!
Paid blogging jobs
Online publisher is looking for a freelance writer who has previous experience writing eBooks, courses, and long-form content focusing on online marketing, blogging, and writing. Experience in creating audio and video courses is a plus.
Epic Gardening is a blog dedicated to teaching people how to grow their own food, whether that be through hydroponics, soil gardening, or a variety of other methods. They need writers who have no problem taking provided resource links and article structure, synthesizing, and creating the best piece of writing on the internet about that specific topic.
Wonder (askwonder.com) is a personal research assistant, helping people save time by getting detailed answers and resources delivered to their inboxes by a trusted network of researchers.
They are looking for freelance writers/researchers to join Wonder's research network. You'll work from home, getting paid to do research while learning about new topics and sharpening your business skills.
A fresh health and wellness, nutrition and weight-loss blog is looking to hire experienced and passionate writers within the industry. Writers will be writing on a collection of recommended topics and will also be able to influence their writing topics within the overall blog's direction.
The Web Graffiti is looking for the ideal candidate to write about Movies, TV Shows, and Gaming. We need a writer that is well versed in U.S. English, which means no grammar or spelling mistakes, period.
Author: Noemi Tasarra-Twigg
Editor of Splashpress Media, writer, and geek bitten by the travel bug.