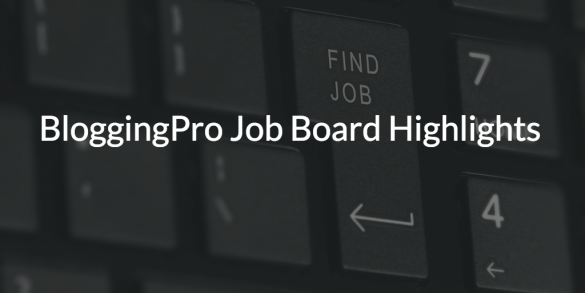 Good morning, BloggingPro job hunters.
It's that time of the week again when we share some of the best writing jobs from our Job Board.
Good luck, and have a great week ahead!
Paid blogging jobs
JobHero.com is a career-focused website that provides valuable information to help job seekers land their next job. They have an established audience of 500K+ monthly visitors and are looking to expand the site by publishing hundreds of new, well-researched articles in the coming months. To reach these goals, they are looking to build a team of talented freelance writers to help write in-depth articles on a variety of career-related topics.
Looking for writers who can write for blog and provide content on various topics…from Covering Latest Security News to How To Troubleshooting Tips about current issues trending online.
Also looking for someone who follows IT/Technology on news related and social related sites to help stay up to date on new issues or topics.
Digital Edge is looking for experienced copywriters to work on a project-by-project basis. The content generated would be used for blog posts, web page copy and social media outlets for the travel and tourism industry specific to destination marketing.
Local lead generation company looking to hire a freelance writer for two blogs:
-Scholarsaavy.com will become a source for all that is scholarships.
-Sun2roof.com will become a source for all that is solar panels.
They will need six 500-1,000 word blog articles per week and will pay $20-$30 per blog.
Youth Noise seeks a writer *who is proficient in vaping, ecigarettes, etc.* to help create content for clients in the vaping ecig niche.
They will give you an overview of the topic and you should be able to complete the jobs based on some research and your prior knowledge of ecigs. Articles tend to be about 800+ words long.
Author: Noemi Tasarra-Twigg
Editor of Splashpress Media, writer, and geek bitten by the travel bug.