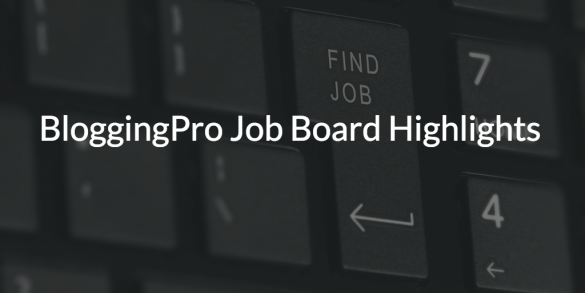 Good morning, BloggingPro job hunters. It's that time of the week again when we share some of the best writing jobs from our Job Board.
Good luck, and have a great week ahead!
Paid blogging jobs
Writer to write definitions for work style attributes. You must have psychological orientation, education, training or experience. You also must have complete and excellent command of the English language.
For this project, you will turn psychological attributes into plain English for the lay public to understand. This is a project based assignment which can lead to ongoing projects.
Need a Pokemon writer to write daily blog posts on Pokemon Go and recent Pokemon trends-plus if you have Pokemon experience and written about video gaming before
Looking for a hard working writer who can help create their dream daily fantasy sports website. Share what you would love to see on a website as a resource for fans looking into how to succeed on daily fantasy website and we will build it!
Writer needed to author article(s) for ecommerce site blog related to the Company's product (model kits).
Payment is per word for the article(s) and payment based on a fixed-bid quote for product descriptions, site content, etc.
Online publisher is looking for a freelance writer who has previous experience writing eBooks, courses, and long-form content focusing on online marketing, blogging, and writing.
While experience in creating audio and video courses is not a requirement, those who have created these before will be prioritized.
Author: Noemi Tasarra-Twigg
Editor of Splashpress Media, writer, and geek bitten by the travel bug.