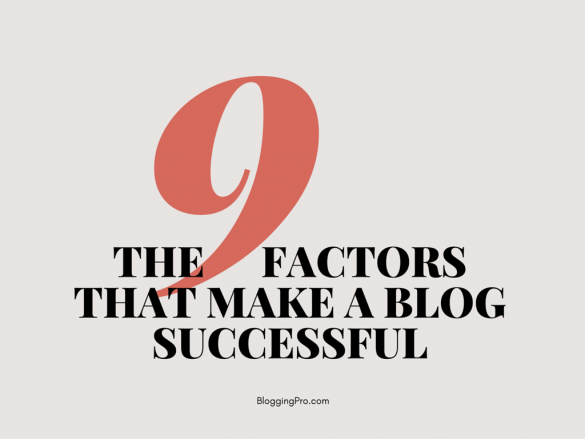 With the rise in popularity of content marketing and the knowledge that anyone can build a website these days, it's no wonder that more businesses and individuals are turning to blogs to support their endeavors. But building a blog is certainly no guarantee of success, even if you're a fantastic writer with something good to say.
Ask anyone who's created a multi-million dollar blogging empire, and they'll tell you the same thing. There wasn't any magic or luck driving their success. Instead, they did enough research to know what made blogs successful, and they worked hard to achieve those factors. Though it's practically impossible to list every potential influencing factor in a blog's ultimate success, there are a few standout pillars that are necessary for even marginal benefits.
The Factors
These are nine of the most important factors in what makes a blog successful:
A unique niche. First, you need a unique differentiator. There are millions of blogs out there, and yours is going to disappear into a sea of white noise unless you have an idea that's unique enough to be distinguished from the crowd, and specifically tailored to one audience segment. It can be hard to find a niche like this, but you'll have to dig deep if you want a chance at standing out in such a crowded marketplace.
Good design. Ideally, the content of your blog would matter far more than the actual design, but the truth is, most users base their opinions on your brand on their first impressions. You don't need to go over-the-top here; in fact, there are plenty of examples of world-famous blogs built on template sites, but at a minimum, you need to make sure your blog is readable, easy on the eyes, and compatible with all manner of devices and browsers.
Consistency. Consistency is a major factor in audience retention, and you'll need a good retention rate if you want to reap the benefits of a content marketing strategy. That means you need to be consistent in your brand voice, always giving your readers a consistent experience. It also means you'll need to post regularly, in a pattern that your readers will appreciate and eventually anticipate.
Depth. Your material needs a suitable amount of depth. That doesn't mean that every piece you produce has to be a full in-depth analysis on the order of 10,000 words—in fact, you should vary the length and depth of your pieces to capture different audience segments. However, you need to provide your readers details they aren't getting elsewhere.
Approach-ability. Your blog needs a degree of approachability. New readers should immediately feel "at home" with your brand, and your topics should cater to people ready for both entry-level and advanced-level information. You should also write in a casual voice that shows off your personality.
Share-ability. The best way to attract new readers is through social sharing, but to get more shares, you have to encourage more shares. Include social share icons at the bottom of each of your posts, and make your social media presence known. You can also encourage more shares by producing content that elicits strong emotional responses, or by creating content that demands shares—such as social media-based contests.
Engagement. Your blog also needs to be engaging, encouraging readers to comment or otherwise interact with your piece. Passive readers tend to get bored with content quickly, while interactive readers tend to become more loyal to the brand with which they're engaged. Make it easy to comment on your blog posts, and interact with your readers in discussions.
Promotion and support. In theory, an expertly written blog post will attract traffic and attention on its own. However, this rarely happens in real life. If you want to generate attention and shares for your blog, you need to go out of your way to share it with more people. That means promoting your content across multiple channels and supporting that content with ongoing efforts.
Evolution. While your idea may be good and your content may be evergreen, a good blog still needs to evolve over time. You'll get more information about what your readers like and dislike, what your competitors are doing, and how your actions affect your results. Put that data to work by turning it into actionable improvements.
Patience in Execution
Recognizing these nine factors is a good first step, but don't think you'll become successful overnight because of it. Content marketing is a long-term strategy that demands commitment over the course of months, and sometimes years. Be patient as you attempt to build your blog from scratch, adhering to these nine rules and gradually adjusting along the way.
Author: BloggingPro