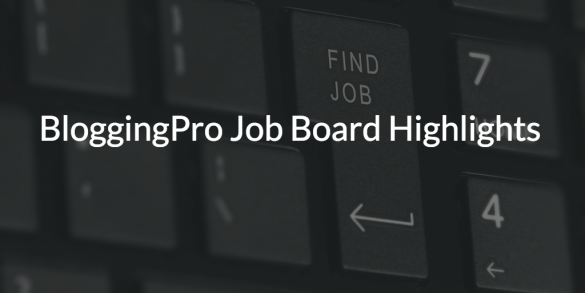 Good morning, BloggingPro readers. Let's start the month on a good note with some of the best writing jobs from our Job Board.
Best of luck!
Paid blogging jobs
Fulcrum Labs needs a Freelance Digital Media Editor. S/he will be responsible for the effectiveness and quality of the online courseware. This role works within the Content team based in Los Angeles. S/he reviews courseware mainly in the fields of aviation, medical, and other technical areas.
Dance Network seeks an experienced writer to join their content team on a part time basis. They are looking for someone to produce unique and compelling blog posts that focus on current dancer, choreography, and trending dance lifestyle topics. The candidate's primary job will be to blog at www.barretender.tv.
Writer needed for a project.
This project requires re-writing academic papers.
– review provided resources
– compile a list of topics that will be rewritten from provided papers.
– make sure there is a flow and all of the topics are connected
– proceed to rewrite.
Scribblrs.com is a growing website started by a team of seasoned bloggers with years of experience. The website is going to serve as a resource for those who want to learn everything there is about starting and growing a blog. Content will range from how to articles to viral articles with a broader appeal.
Presto Media (http://Presto.Media) is seeking US-based digital media writers with AT LEAST 3 Years Digital Writing Experience.
*** They are experiencing explosive growth and are currently in need of 100 writers to help expand their operations. ***
They are a full-service content agency that offers Viral List-Based Articles, General News, Breaking News, and Advertorial Content to large publishers, direct response marketing firms, and other digital publications.
Author: Noemi Tasarra-Twigg
Editor of Splashpress Media, writer, and geek bitten by the travel bug.