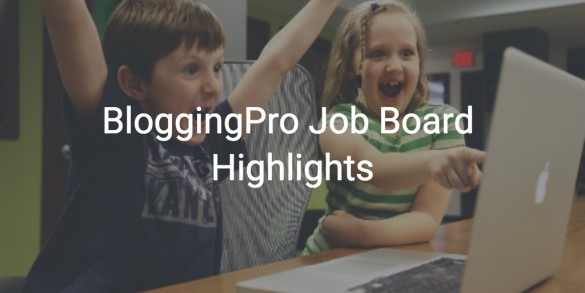 Good morning, BloggingPro job hunters.
I hope you woke up on the right side of the bed today.
As usual, we're serving up some of the best writing jobs from our Job Board to give you another reason to be pumped up at the start of the week.
Good luck!
Paid blogging jobs
The editorial team at Valnet Inc. is looking for writers to contribute list-based buzz articles for TheThings.com. TheThings.com is a site for all things funny, trendy, and feel-good.
They need dynamic writers who are driven to succeed, have a way with words and are passionate about viral trends. Write original, informative and eye-catching articles on topics that are trending online!
Time Out New York Kids is on the hunt for a digital freelancer that has strong lifestyle/listings-writing experience! They'll need your help writing detailed descriptions for great local family events and venues, sharing all the good stuff with their awesome New York following. This person should also have strong experience crafting clicky lists and creating listings-based features.
Gift Selection is looking for a creative, informative and vocal blogger / content marketer for their B2B branded products company.
You'll be writing 'how to' articles, guides on promoting businesses, marketing topics, anything trending / exciting that you're super interested in and is different to the rest of the bland content out there.
Articles will be ~700 words each, and include pictures from creative commons sites, links to their website and other relevant articles and blogs.
Travel Ticker team is on a mission to help more people find affordable accommodation any place, any time. One of the ways they increase awareness about their service among travelers is by writing a blog with many tips and advice on where/when/how to travel. This is where you come in.
CarBuzz.com, one of the Internet's fastest growing automotive news and entertainment websites and the top automotive news app for iOS and Android, is looking for an automotive writer to join the team. This position is part-time and you can work in their San Francisco office on the Embarcadero or telecommute.
Author: Noemi Tasarra-Twigg
Editor of Splashpress Media, writer, and geek bitten by the travel bug.