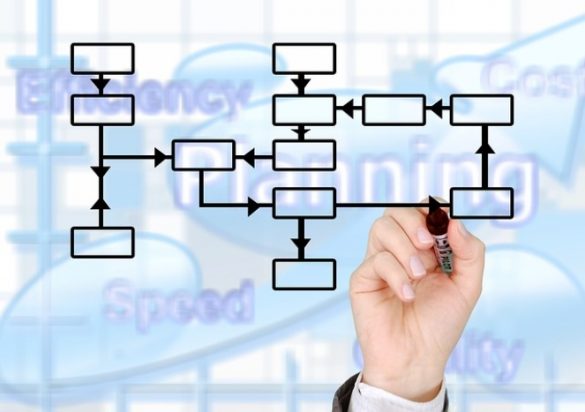 Building strategies for effective time management is a task in itself. Most of us start planning our day from the very moment we wake up in the morning. From commuting to office to achieving goals, our mind is hardly ever at rest. Even for a blogger who works from home, time management is a must!
We end up over analyzing and over thinking, if even one task goes wrong. This leads to mental instability and a decrease in productivity and work performance. Rather than creating a chaotic environment in our minds, we can start by planning our tasks in a more systematic fashion. At the start of the day, we think we have a lot of time and slack off. This leads to a pile-up and everything falls out of place.
The key is to identify the root cause of the problem. How does delay crop up? Is it procrastination? Is it lack of a continuous attention span? Could it actually be over planning?
The answer lies in the fact that we try so hard to become productive, that we end up forgetting about being effective.
So how do you make a distinction between being just productive and not effective? Here are 5 most important ways to make you super efficient at work.
Time management hacks
Organize
The most important task is to organize. Keeping your life in order is the first step at being a pro at time management. How? Let's consider this example.
You're always short of time and that leads to a messy room, an unorganized cupboard and a cluttered desk. You have no idea what is kept where. An important piece of paper might be placed under a pile of files that you might never find.
Here are some hacks which can help you get organized:
Categorize files and paperwork in your workspace.

Manage your work files in your laptop and do not throw everything in 'My Documents'. Create folders and subfolders.

Clear your desk and keep minimum clutter. This will de-stress your mind and help you focus.

Use a cable organizer to save yourself from de-tangling wires and electronics.

If it seems too difficult and time consuming (oh, the irony) , get someone to help you do it.
It will take time for the first time, but once you create a system, you will find one less thing to worry about.
Move Over, Productivity
When you search for tips to be productive on the internet, you see so many blog posts explaining how you can increase your productivity.
But most people fail to realize that becoming productive is not the goal. Focus on becoming effective. To become productive, it takes a lot of determination and hard work. Hard work does not always pay if it's not smart work.
To be effective, you have to learn to prioritize tasks on the basis of how urgent they are or how important they are. As per Stephen Covey's Time Management Matrix, there are four quadrants: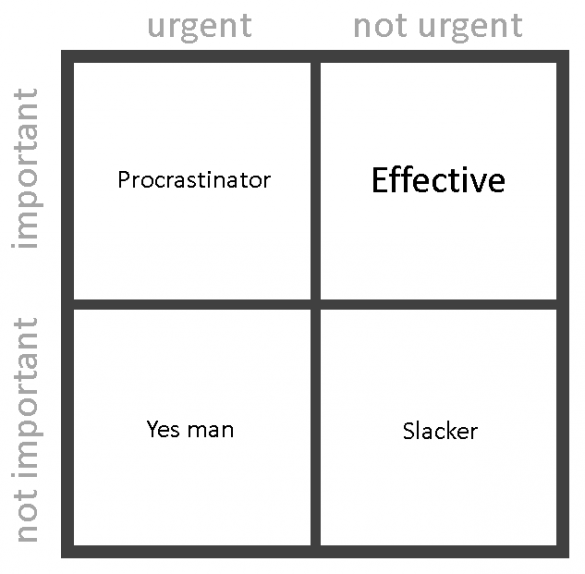 Quadrant 1 includes those tasks which are urgent and important. They require immediate action. For example, your building has caught fire and you have to evacuate it to save your life. It is a situation based task which is both urgent and important.
Quadrant 2 includes those tasks which are extremely important and goal oriented. For example, planning your marketing strategy is an important task which is long term and goal oriented. You need to plan everything carefully and this requires a lot of time and thinking. Quadrant 2 where you need to put most of your time to be effective.
Quadrant 3 includes those tasks which are urgent but not important. The tasks which interrupt you while you're busy with an important task such as an unofficial call comes under this quadrant. Time consumed here should be kept minimum to be effective.
Quadrant 4 includes all those tasks which are time killers. Gossiping or surfing the internet are some tasks which are categorized under 4th quadrant.
As it is clear that you need to focus on Quadrant 2 to be effective, you can use time management tools and app to manage your time effectively.
Track Your Time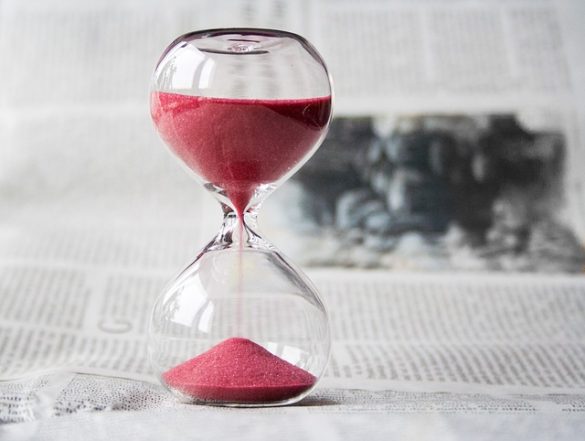 Keeping tabs on your time is another great way to manage your time effectively. Tracking time lets you know which exact task is taking more time than planned. The reason could be slacking off, lack of interest, or that task just requires a little push on an everyday basis.
To track your time, simply use a daily planner. Or, if you fancy the digital world, use a free weekly planner so that you can track what kind of activities consume most of your time. Once you get to know which task consumes how much time, you can modify your schedule to increase your effectiveness.
Another trick to restrict yourself from spending extra time on one activity is to impose deadlines on yourself.
Divide a huge task into subtasks and assign a mini deadline to each subtask. Do this so that you complete it on time.

It is a great way to reduce stress and achieve goals, even if they are nominal, increase motivation.
Save Time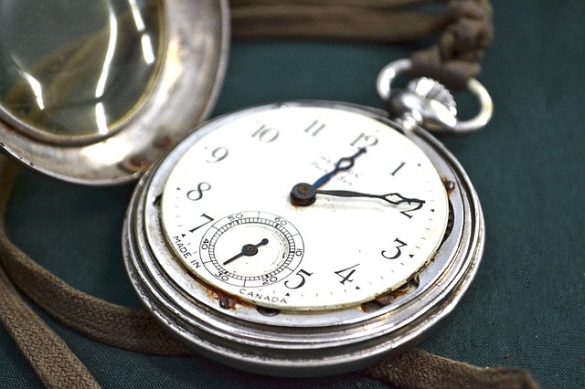 Avoiding distractions can significantly cut short your time. Multi-tasking is a fallacy and it can be another reason why you end doing nothing with quality. Studies have found that multitasking reduces your productivity by 40%.
Say No. Why? If someone asking you for a favour to do their task, decline their request by saying no in a polite manner (unless it's your manager). Keeping yourself priority number one will work wonders for you, not only professionally but also personally.
Keep these to a minimum at work:
Checking your social media accounts

Messaging and WhatsApp applications

Unofficial/unimportant calls and emails
Concentrate
Focusing on your work sometimes becomes difficult when you're working in an environment where there is a lack of silence. 
For example, if it's noisy at home, you might not be able to work well. Or, you may be working at a coffee shop, and the noise is too loud.
One thing you can do  is to meditate. Practicing meditation increases your ability to stay focused and concentrate on a task for a longer period of time.
Listen to instrumental music which is soothing to ears and makes you feel calm and relaxed. Do yoga and deep breathing exercises which can increase your attention span by up to 400%.
Stretch in between the tasks to save yourself from the monotony of completing tasks back to back. Give yourself that workout your body needs. It could be yoga, gym, cycling to work or just push ups in the morning. Stretching or walking a few steps in between tasks improves blood circulation in the body. It will make you active and more focused throughout the day.
This post was written by Aymeric Gaurat-Apelli,  a software consultant and the founder of WEEK PLAN, a weekly planner web application. Read more about time management on his blog.