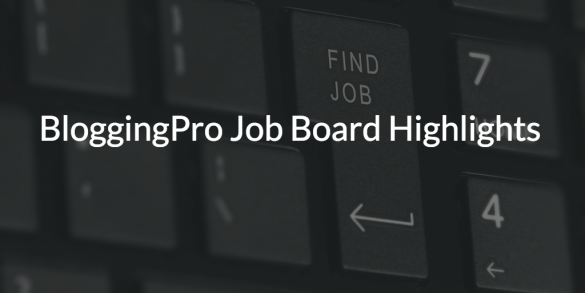 How's your day starting? I hope you're all waking up well and that you're ready to check out a few more paid blogging jobs.
Here is today's list for the week. Good luck!
Paid blogging jobs
A marketing team's client base continues to grow, and they need to expand their pool of web-savvy, engaging content creators–specifically those who can write knowledgeably on digital marketing and SEO.
Sify (a multinational IT infrastructure and services company) is seeking a freelance Technical Copywriter to help revamp and refine their web content.
As the creator of original content describing technologies and services consumed by millions of people every day, your work with be admired by a broad international audience.
Digital Inkwell is looking to add 1-2 writers to its content marketing team. Writers would be responsible for creating original content on a wide variety of topics in the WordPress and web design and development spaces. Applicants will ideally be well-versed in general technology and business topics as well.
Your Marketing Lady is looking for SEO-focused content – this is B2B and we need Evergreen content such as how-to's, tips and ideas for getting more clients using their website.
Author: Noemi Tasarra-Twigg
Editor of Splashpress Media, writer, and geek bitten by the travel bug.