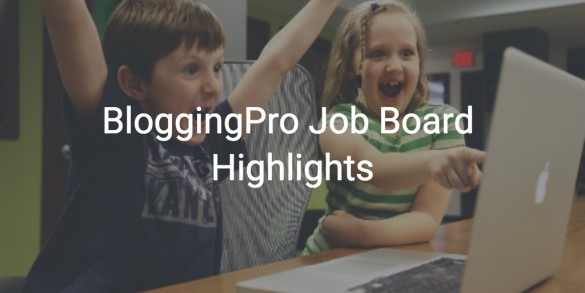 Good Monday morning, BloggingPro job hunters. Here's a reason to make you look forward to the day: a list of paid blogging jobs from our Job Board.
Good luck!
Paid blogging jobs
Wpromote is looking for a creative, detail-oriented, and reliable writer who knows IT and who can confidently and clearly write technical content.
They're looking for a writer who has knowledge and experience writing on IT and who can successfully match their writing style to the tone of the client. You would write technical service pages, glossary pages, and blog posts for their site. The tone should be credible and knowledgeable yet understandable for a non-IT person.
Industry Dive is looking for a dedicated and passionate business writer that can write insightful feature stories about IT systems and/or the payer industry in the Healthcare industry. This would be a writer who can identify and communicate the significance of new developments and market trends, and who can take a good story idea and come back with a compelling narrative for an audience of healthcare executives and managers.
Do you love cars and know them inside and out? Are you a skilled writer with published automotive experience? If so, this freelance opportunity is for you.
Malebasics, a brand internationally known for classic and performance underwear is looking for writers or bloggers to create content on a daily basis.
Ideal writer profile:
Fashion or lifestyle experience
Blogging experience and common knowledge of keywords
Witty, creative and out of the box thinker
LGBT friendly
Able to write 4/5 400 words articles / per month on a variety of topics
High-profile, multi-platform L.A.-based media company is seeking smart, culturally plugged-in writers, editors, bloggers and videographers to work on their website and bi-monthly print magazine:—a newsy and stylish hybrid of Vice and Vanity Fair headed up by a blue-chip team of editors and writers.
Author: Noemi Tasarra-Twigg
Editor of Splashpress Media, writer, and geek bitten by the travel bug.