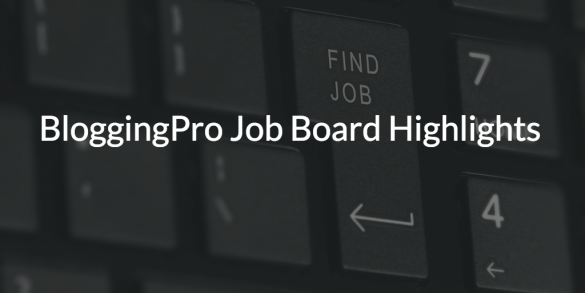 Good Monday morning, BloggingPro job readers.
Here's a reason to make you look forward to the day – and the rest of the week, I hope: a list of paid blogging jobs from our Job Board.
Have a good one!

Paid blogging jobs
SFG Media Group is looking for freelance writers to work on recipe adaptations — including slow cooking, casseroles, baking.
You'd be responsible for 1) pitching an idea and getting it approved by an editor and 2) writing up recipe/article.
Artisan Creative is looking for a B2B Copywriter/Blogger to work on a variety of B2B projects from weekly blogs, to website updates and marketing collateral.
The Ideal candidate will have B2B experience writing for sales and marketing teams. Any experience writing for Human Resources is a plus.
This role is offsite as needed when projects come up and open to US-based talent.
The Richmond Times-Dispatch has a freelance opportunity for an experienced journalist with a discerning palate and an enthusiasm for reviewing restaurants in a region getting a lot of attention for its outstanding and innovative dining scene.The job requires familiarity with a variety of cuisines, cooking styles and dining establishments; excellent reporting and writing skills; fluency with social media; and adherence to the highest ethical standards.
UserEdge Technical Personnel is seeking fully remote freelancers to write web content for law firms.
Must have prior web content writing for legal websites or related.
This work requires quick turnaround, flexibility with volume ebb and flow and experience with legal content.
Author: Noemi Tasarra-Twigg
Editor of Splashpress Media, writer, and geek bitten by the travel bug.