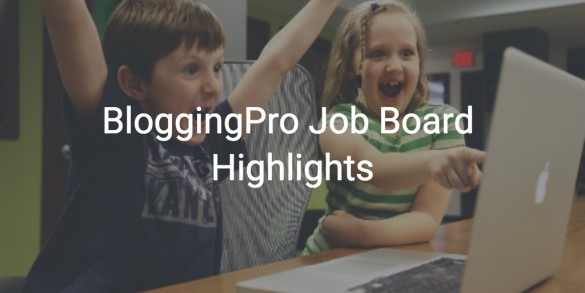 How's everyone doing this morning? Do you have a nice list of jobs to tackle this week? I hope so!
In any case, new jobs are always welcome, aren't they? So, here are this week's paid blogging jobs from our Job Board.
Paid blogging jobs
The Social Media Blogger is responsible for performing work in one or more of the following areas on a daily basis:
Writing 500- to 1,200-word blog posts.
Researching, outlining, and writing blog content
Writing website content/copy.
Reading through articles, books, blogs, online trade magazines, and etc. to come up with content ideas.
Uploading articles and other material to blogs.
Seminal is a team of three people and a network of freelancers. They build a system for creating content that results in thousands of shares per article and create content that impacts millions of people's lives.
They work with freelance writers and editors. Depending on the level of experience, they pay $25–$75 per hour.
Moving.com is a leading website that helps connect consumers with moving companies to give them all the information they need to make the process successful, affordable and even fun.
They are seeking a top-notch, experienced writer/editor to join their team and help curate and create original content for their site. Your primary role will be to help establish their editorial voice and improve user acquisition and engagement across the site via regular consumer-targeted articles and guides.
Write your very best stuff at Audience Ops. They give you steady writing work, a proven team-driven process that allows you to research each audience, come up with topics that matter, and they'll support you so you can produce stuff that will resonate and genuinely help those readers get ahead.
DailyChatter is seeking a Subscriber Engagement and Social Media Manager/Editor to help us build community among our growing readership, expand our subscriber base, and manage our social media strategy and execution. This is a part-time position of approximately 15 to 20 hours a week at excellent hourly compensation.
Author:
Noemi Tasarra-Twigg
Editor of Splashpress Media, writer, and geek bitten by the travel bug.