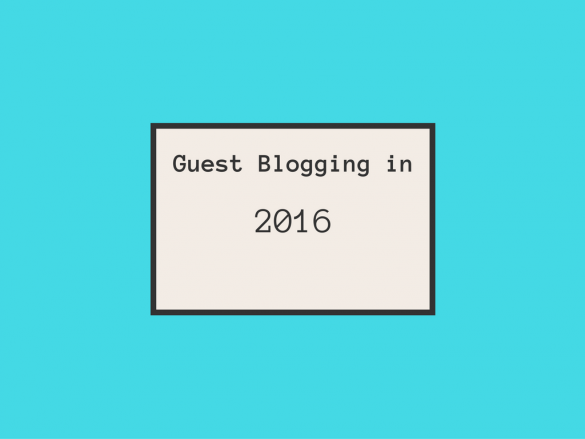 As it turns out, guest blogging is still a very relevant practice in 2016. It still helps you to build relationships or important connections that establish you and your own blog as an authority figure in your industry, it helps you gain exposure and grow your blog audience, increase traffic back to your website or blog, and it helps you build some integral backlinks to your site, which give it more authority in search engine rankings. All of these are figures that will greatly impact the success of your website. However, a few things have changed.
Blogging and Buyer Personas?
One of the main differences between guest posting in the past and right now, is the need to identify a buyer persona. A buyer persona, in simplest terms, is a fictitious representation of the target audience – see here for a more detailed explanation.
Although this is a retail related term, it works for a blog audience just as well. By creating a well-crafted buyer persona, a blogger can identify and engage the right audience and be able to create more tailored and successful content for this audience. So as a guest blogger, the trick is to figure out this buyer persona that the blog you are posting for has carefully constructed. This usually includes:
Who – age, location, profession, niche
Behavior – concerns and wishes
How – how they engage with or consume the blog content
What – what makes them come to this blog and keep coming back?
All of this information serves to help you write more targeted guest posts that not only follow the content and style of the blog you are guest posting on, but help you better engage its audience and write something that is a lot more receptive. This step can also help you create more targeted guest posting pitches that will have a higher likelihood of being accepted.
Some general rules to follow when considering guest posting
Of course guest posting still requires some essential, old-school etiquette:
Work on your own content firstGuest blogging won't help you if your blog is empty of quality content itself. Before you can reach out with the request to guest post, you need to give this blogger a reason to say yes. Your own quality content is that good reason.
Choose wiselyIn general you want to pitch to blogs that are more successful than your own. Look for blogs with a good-sized, engaged audience if you are trying to develop authority in your industry and gain exposure. And if you are trying to build backlinks, then look for blogs with high domain authority. And of course it goes without saying to choose only blogs in your niche. A completely irrelevant blogging connection won't do either of you any good.
Always submit post ideas when you request to guest postJust like you wouldn't want someone asking you if they can post on your blog and then asking you to come up with an idea of what you would like them to write, don't do this to others. Have more than one idea ready and give them a bit of choice when you pitch them your guest post ideas.
Stick to the guidelinesAlways read the submission guidelines and follow the requirements. Is there a word count minimum and maximum? Do they ask for it to be written in first-person? Don't just rest on your own style and experience, make sure you do your do-diligence and follow their requirements.
Do your researchResearch previous posts on the blog, get a feel for the writing style and content, as well as the audience. You don't want your post to be drastically different and no longer appealing to their core audience.
Proof very wellWrite and pay attention to details just like it is one of your own posts – you want it to be perfect. Read over it thoroughly and make sure there are no spelling mistakes or grammatical errors.