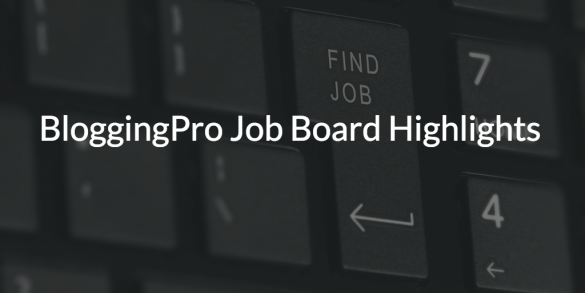 So we're looking at a new month and the last stretch of the year. How do you feel about that? Excited to close projects for 2016? Or are you a Christmas enthusiast, getting all ready for the holiday?
Whatever's keeping you busy, here are some writing jobs that will give you more spending money.
Good luck!
Paid blogging jobs
Advanced Problem Solving LLC (APS) seeks a copy editor to work from home at various phases in the production of online training lessons. Very part-time work, approximately 20 hours/month, with short turnaround times. Starting pay commensurate with experience but not less than $50/hour.
Martha Stewart needs writers who can write both short-turnaround pieces as well as longer feature stories for our home, food, crafts, and entertaining channels.
Smithsonian Networks is looking for a freelance social media writer to create weekly Facebook and Twitter calendars for our wildlife and nature documentary OTT service, Smithsonian Earth. The ideal candidate should be comfortable writing engaging, scientifically-accurate copy that manages to walk the fine line between being entertaining and educational. Candidates should have at least 2-3 years experience with social media writing and/or science & nature writing for the web and have experience with fact-checking and copy-editing. Attention to detail and scientific accuracy is key to this position.
Do you have a passion for and strong knowledge of eSports, and a portfolio of quality writing on the topic? An established sports network is looking for eSports content contributors.
Author:
Noemi Tasarra-Twigg
Editor of Splashpress Media, writer, and geek bitten by the travel bug.