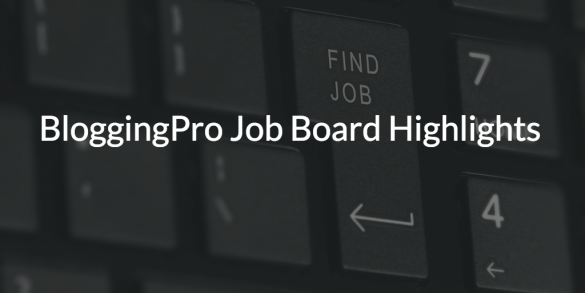 How are you this Monday morning?
I hope you're all looking forward to lots of work this week. For more work, take a look at some of the best paid blogging jobs from our Job Board.
Good luck!

Paid blogging jobs
UpTrending needs someone to concept, research and write blog posts, POVs, white papers and a range of other short-form and long-form content in support of their internal agency marketing efforts.
This position is 100% remote – you may work at the U.S.-based location of your choosing.
SolutionsWide is seeking a witty freelance writer who loves to craft funny commentary on a huge variety of social news and entertainment topics. You should be obsessed with what people are talking about and sharing on the internet, and be able to spin your own funny perspective on just about anything.
Copywriter needed for both short-form and long-form content. You must have professional experience as a journalist and have SEO knowledge.
CareerFoundry offers online courses in web development, UX design, UI design, and iOS Swift. Through their in-depth online courses, and by connecting our students with mentors who are experts actively working in the industry, they aim to transform complete beginners into tech professionals in just 6 months.
You'll be contracted for 4-6 months to write a course for career changers looking to dive into the world of UX design. With the support of their curriculum team, you'll work to deliver an engaging, challenging, and immersive online course which will take learners from absolute beginners to hirable UX designers.
Mic is looking for a highly motivated, passionate writer for their News team. This applicant should have experience reporting and writing, conducting interviews, and have a nuanced understanding of how people consume news. This applicant must have their finger on the pulse of all the most engaging news stories of the day, week and month.
Author: Noemi Tasarra-Twigg
Editor of Splashpress Media, writer, and geek bitten by the travel bug.