All people make mistakes. All bloggers are people. Therefore, basic logic dictates that bloggers make mistakes. Or something like that. It's been a while since I took Introduction to logic. In any case, bloggers make mistakes.
However, only some of these mistakes are enough to make the visitors have a negative emotional response. Even today when people have short tempers and even shorter attention spans, it takes a while to elicit actual hate.
Still, many bloggers manage to do it. I know I have done it and I know most of my blogging friends have done it. The chances are you have done it as well.
But what are these things that can awake such a powerful emotion like hate in your visitors?
Annoying "blog mistakes"
Narcissism of Epic Proportions
A person who has seen all of the 67,837,456 seasons of Grey's Anatomy does not consider themselves an expert on cardiovascular surgery. Someone who spent a few late nights looking at the stars through their telescope when they were 10 will probably not describe themselves as an expert on astronomy.
On the other hand, most people who have read a two or three books on marketing will gladly call themselves a marketing expert. Most people who have run a blog for more than three months will think of themselves as blogging experts.
You also published a guest post somewhere!?
Well, you must be a content marketing guru of some kind!
Various experts and gurus are a dime a dozen these days and most people are simply fed up with it. Unless you have years of practical experience behind you or you have helped Coca-Cola get a positive mention on a health channel of some kind, you are not an expert. Let alone a guru.
Get over yourself.
Also, if you are blogging on a topic, do not mistake yourself for the biggest authority in the field. The chances are you are not. The chances are that you are wrong about something. This is especially true if you decide numbers and facts do not matter.
Of course, I might be wrong. I do not have the numbers in front of me.
Technical Stuff Is For Other People
Yes, it takes a while to learn all the important stuff about running a blog that has nothing to do with putting your ideas to "paper". However, not learning about it and not taking care of certain basic technical requirements will make people hate you before you can say "slow loading times".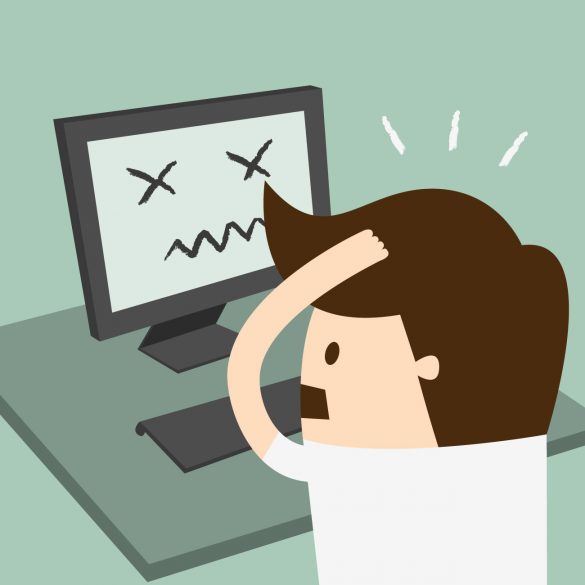 While we're on the subject of slow loading times, please make sure that your visitors do not have to wait too long for your blog to load. People have become insanely impatient when it comes to loading times and they expect the pages on your blog to load almost instantly (in under 2 seconds). You can read all about speeding up a blog here. For WordPress blogs, this is another great article.
Not keeping your mobile visitors in mind is yet another hate-evoking oversight. It's been two years since mobile internet users became the majority and not doing proper writing for mobile can extremely annoying.
People who do content for a living, like the pros from King Content Agency for example, will also tell you that the visual (and audio) aspects of the blog should not be ignored. For instance, turning your blog into ad-central is always a bad idea. Media that autoplays can turn people into beasts of pure hate very easily. Going too carnival-like with your blog should also be avoided. Finally, there is a limit to how many stock photos people can tolerate on a single page.
Utter Lack of Care for the Reader
I hate to admit this being a blogger myself, but for the most part, blogging is an exercise in narcissism. You as a blogger believe that the world will benefit from learning about what happens in your mind. While a certain dose of self-indulgence can be expected, this does not give you the right to lack any care for your readers.
And there are a million ways in which bloggers do this.
For example, you show them utter disrespect by churning out mindless, regurgitated content that is also plagued by syntactic, semantic, grammar, spelling and logical errors. This is annoying for the first 10 minutes. Then, it is hatred-inducing.
Writing in gigantic blocks of text is another way to irate people. I am not the proponent of the modern "keep a sentence under 4 words and keep every word under 4 letters" madness that is trying to take us back to the age of hieroglyphics but I really hate reading through a paragraph that has more than six or seven lines without a break. This is even more annoying when trying to read something on your mobile device.
You should also let people know who you are. I am not saying you should feature your autobiography, but a nice little About Us (Me) page and a way to contact you goes a long way.
Another way to disrespect your visitors is to ignore their comments, both when it comes to approving them and replying to them. Of course, you will not approve spam comments or answer to trolls, but all genuine comments need to be replied to.
Finally, you should write about stuff that people are actually interested in. This is not pandering. This is not saying you should write specifically for certain readers. However, you need to have at least some insight into what people would like to read.
Closing Word
Just put yourself in the shoe of your visitors and potential readers. What would make you hate a blog?
That's it.
This post was written by Nate M. Vickery, a business consultant from Sydney, Australia. He has a degree in marketing and almost a decade of experience in company management through latest technology trends. Nate is Editor-in-Chief at Bizzmarkblog.com. You can follow Nate on Twitter at @NateMVickery.