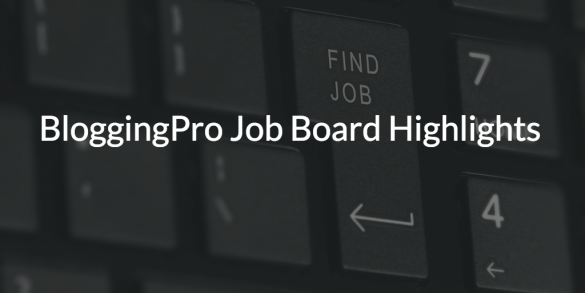 Good morning, everyone.
Once again, we bring you paid blogging jobs from our Job Board.
Happy Halloween!
Paid blogging jobs
Do you want to write about the scientific breakthroughs in physics, emerging technologies in precision manufacturing, and product innovation? Aprototype is looking for a part-time blogger or writer who has a background in physics, engineering, or machining. This is a great opportunity for writers with a technical or science background who want to work remotely and are self-motivated.
Digital Current is looking for a knowledgeable writer that can create interesting, thoughtful content for their clients. You will join a team of professional writers that create quality content for their clients' websites.
The Portalist, Open Road Integrated Media's new sci-fi/fantasy site, is looking for freelancers who are interested in writing about geek pop culture (video games, comic books, TV, movies); science and tech; and aliens/cryptozoology. They are not interested in fiction submissions or TV recaps. Their emphasis is on positivity, inclusivity, and examining how the pop culture and science of today will impact tomorrow.
GameSkinny is looking for a Weekend Associate Editor and Freelance Writer. They need one brave, talented, passionate soul who loves games as much as they love the Oxford Comma to guide writers toward greatness.
This position involves hours on the weekends spent editing content, and writing or coming up with content ideas at any time during the week.
Show-Score, a theater review website with over 92,000 members, is seeking freelance writers to join their growing blog team. Their blog is friendly, informative, and casual in tone; a place for theater-goers to share their passion and knowledge with other theater fans.
They are specifically seeking writers with experience writing short-form content (listicles, tips and tricks, editorials, etc.) and a strong interest in the New York City theater scene.
Author: Noemi Tasarra-Twigg
Editor of Splashpress Media, writer, and geek bitten by the travel bug.