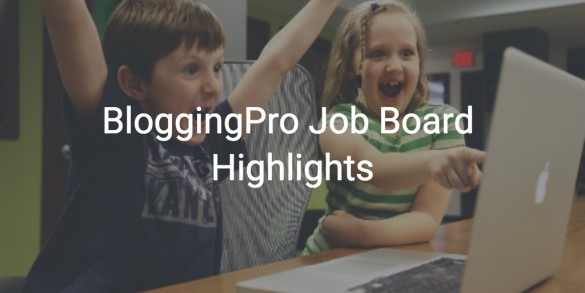 Good Monday morning, BloggingPro job hunters!
Are you ready to take a look at more jobs and snag one or two?
Here are some of the best paid blogging jobs from our Job Board. Good luck!
Paid blogging jobs
Liberal America is looking for political writers. Writing for them is a great way to earn a living and grow your own audience. You are welcome to link to your own sites, books, social media accounts, etc…in your bio, which is shown on all articles by default.
They are looking for serious writers who treat writing like a job, not occasional contributors or hobby bloggers. They require a minimum of three articles per week.
Nutrition Research News needs a native English speaking freelance writer who has training in nutrition, some experience in or knowledge of marketing a wellness or nutrition consulting business and familiar with social media. The topics that need written are for the Wellness Business Articles section. They are primarily "how to" advice guides and articles for independent wellness professionals.
Wetpaint is looking for a Walking Dead expert — comics and AMC show — to provide Sunday night coverage as well as news coverage during the week. They have a dedicated TWD fanbase who are absolutely obsessed, so the ideal person for this position really knows the series backward and forward.
Lifehack is looking for team players who share their vision.
As they are developing this product, their team will keep you updated on the progress so that you can write on a regular basis.
Pure Spirit Creations needs bloggers who have expertise in blogging (all aspects, including promotion, WordPress, plugins, SEO, writing posts, etc.) and want to write about this topic. This includes anyone who can make the cross over from blogging to writing/publishing and vice versa.
Author: Noemi Tasarra-Twigg
Editor of Splashpress Media, writer, and geek bitten by the travel bug.