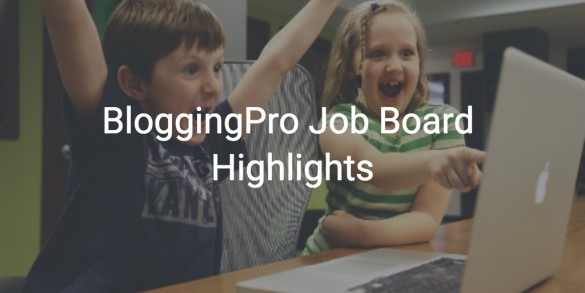 It's the start of a new week once again, so here is our hand-picked list of paid blogging jobs from the Job Board.
Good luck, and have a great week ahead.
Paid blogging jobs
For an upcoming news/events blog about Vancouver, Canada: looking for freelance writers – ideally residing in the city, although the work is done remotely. The job includes creating simple listicle type of posts, as well as reporting on local news and events. You'd be working with an editor for direction
Payment per article, depending on length. Most articles are listicles and others are simple, short, and easy to create. Ideally be aware of local news websites, social media accounts about the city, immersed in local culture.
Carbonated.TV's online community is exponentially growing and you will help expand their social media presence even further. You will be responsible for setting daily traffic goals, communicating their voice to our audience, finding influencers to help distribute content across the web, and ensuring their content is placed on major blogs and websites.
Do you love guns AND are awesome at writing?
At Pew Pew Tactical, they educate their audience of younger tech-savvy readers that are just getting into guns and are tired of sifting through forums and YouTube videos for the right information.
SFG Media Group is looking for freelance writers to write articles about quilting.
You'd be responsible for pitching a story to an in-house editor and then writing up the article once the pitch is approved. All articles must be submitted online through their portal.
Social5 is a social media management company that specializes in the production and distribution of high-quality content for businesses in more than 200 industries worldwide. Led by former newspaper and television journalists, Social5 is seeking freelance writers across the nation to keep up with recent growth. Social5 is looking to hire 5-7 writers in various capacities before Dec. 15, 2016. Preference will be given to writers who demonstrate experience in the industries listed below, as well as proficiency in WordPress and customer communication.
Author:
Noemi Tasarra-Twigg
Editor of Splashpress Media, writer, and geek bitten by the travel bug.