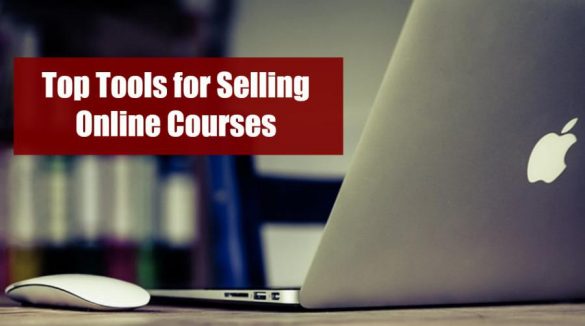 If you aren't using a powerful enough course creator platform, you will soon realize that creating and selling your online courses can be such a nightmare.
Not only would you need to host all your content, but you would need to setup sales funnels, capture leads, market your courses, and setup other crucial integrations as well (among other things).
If you are quite uncertain about which course creator platform you should use to house your online courses, then allow me to share — and unpack — these three remarkable course creator tools.
While there are several of these tools in the market, I decided to write specifically about these three because I've gotten several inquiries about them from my community.

One thing's for sure, the guys over at Kajabi really walk the talk. They weren't exaggerating at all when they said, "All The Tools You Need… Under One Roof."
As I unpack Kajabi right now, you'll realize how powerful the platform is and why everything you need to sell, market, and deliver your content is in fact in one place.
The dashboard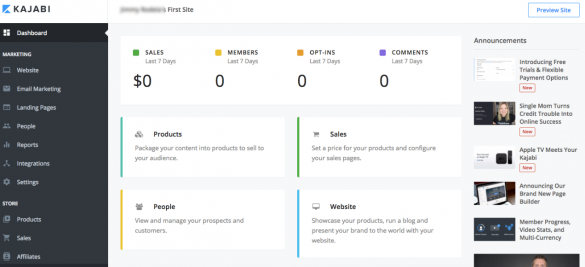 As you can see, Kajabi's dashboard looks clean and organized. All the features are added and arranged in a neat and familiar fashion, making it easy for their users to navigate the platform without feeling the slightest bit overwhelmed.
The marketing features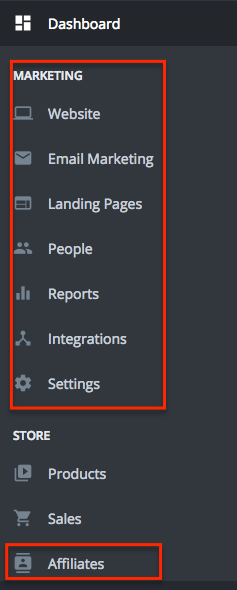 Kajabi's marketing features allow its users to setup websites, run email marketing campaigns, create landing pages, nurture a community, and add third-party integrations. It even allows its users to set up affiliate marketing programs (among other things).
If you've checked out several of Kajabi's competitors and the solutions they offer, then you'd have realized by now that Kajabi's marketing features are a cut above the rest.
Product creation
To create a product, you simply need to click "Product" on the menu, click the "+ New Product" button, enter your product title and description, and add your product thumbnail. You can then start adding your content.
Landing pages
The platform has 23 free landing page themes to choose from. Check out how clean and professional-looking their themes are.
* Note – You can also upload your own landing page theme.
What's even more amazing is how the themes have a preset layout for all sorts of purposes (e.g. long form sales, course sales, optin forms, minimal sales, etc.). The preset layouts make it easier for you to start creating your landing page without having to do much editing.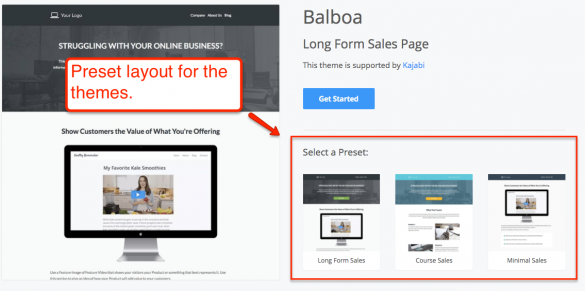 Pricing
Kajabi has three pricing points:
Basic
Billed Annually: $103 / month
Billed Monthly: $129 / month
Pro
Billed Annually: $311 / month
Billed Monthly: $389 / month
Premium
Billed Annually: $719 / month
Billed Monthly: $899 / month
Pros
Kajabi has all the bells and whistles that business owners need to start selling online courses. The best part is, that's not the only thing the platform is capable of. It also possesses several marketing tools that you can use to drive more viewers and subscribers to your content, helping you generate more sales.
Cons
If there's one thing about Kajabi that I'm not a fan of, it'd be how they require their users to enter their billing information even when creating the trial account. Some of their competitors do not ask for this information.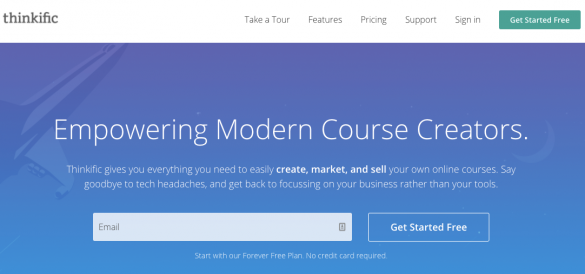 Despite Thinkific's severe lack of marketing features, there are a lot of good things to be said about it.
For one thing, the website looks clean, crisp, and easy to navigate. Even if you are new to course creator platforms, you'll find that Thinkific is pretty intuitive — you'll never get lost when you're on the website.
Signing up with Thinkific is dead easy, as well. You just need to click the "Get Started Free" button, type in your Email, Password, and the name you want to use for your Thinkific website.
After which, you'll be taken to a page where you will be asked to choose a color scheme for your website — you have three options to choose from.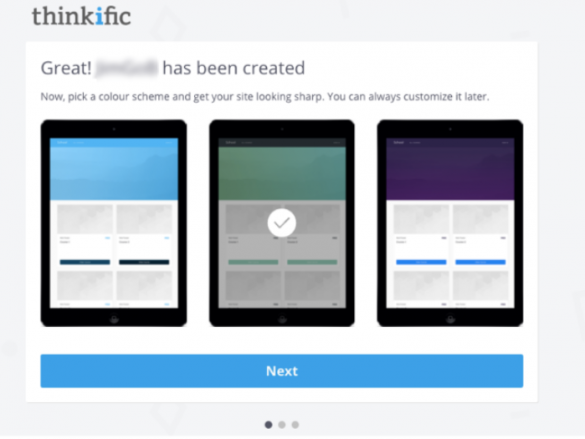 After selecting the color scheme, you will then be asked a couple more questions (about 3 – 4) then you'll be taken to the dashboard.
Here's how their dashboard looks.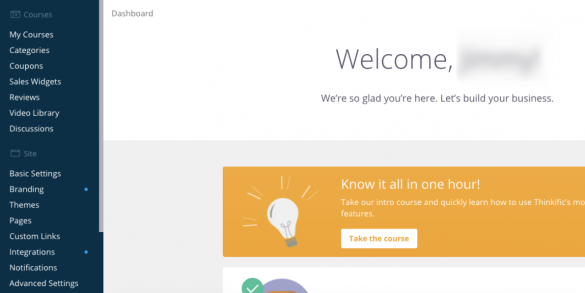 Creating your course
You'll be amazed at how easy it is to setup and format your course once inside the platform.
Simply click the "My Course" option on the top left hand of the dashboard, click the "Create New Course" option, enter the name of your course (you can edit this later so don't sweat it), click "Create Course," then you can start adding chapters.
Here's how the page looks after you click the "Create Course" button.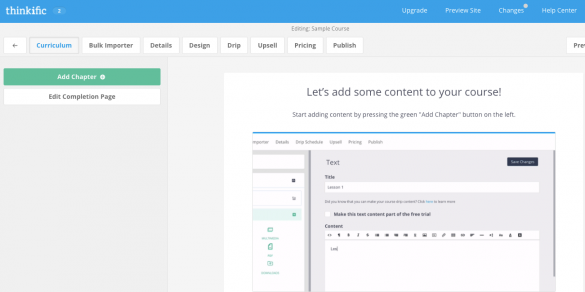 After you click the "Add Chapter" button and enter your chapter title, you can now start adding your content.
The platform gives you the option to select the type of content that you're going to add (e.g. Text, Video, Quiz, Survey, etc.).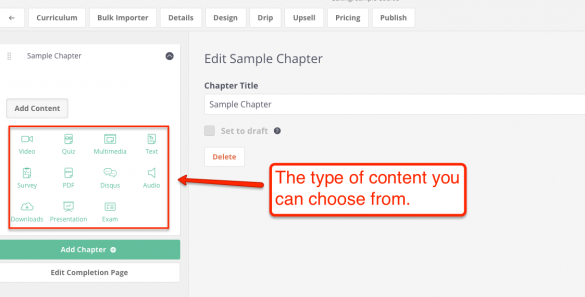 The process is pretty simple, isn't it?
With how easy to use the tool is, you shouldn't have a hard time figuring out how it works.
Pricing
Thinkific has four pricing points:
Starter: Free
Essentials
Billed Annually: $39 / month
Billed Monthly: $49 / month
Business
Billed Annually: $79 / month
Billed Monthly: $99 / month
Advanced
Billed Annually: $219 / month
Billed Monthly: $279 / month
Thinkific's pricing is considered reasonable (competitive, even) when pegged against its competitors.
Pros
Thinkific's UX and UI is pretty decent. I can't stress enough how easy it is to use the platform to the point where even a total newbie can figure out how to setup his/her own course.
Cons
As mentioned previously, Thinkific lacks the marketing tools to help its users grow their businesses. You can't create optin forms; it doesn't allow you to do email broadcasts, and they don't have autoresponders (among other things).
Not having a powerful enough marketing tool is a major letdown for Thinkific. Considering how noisy and competitive the internet has become, your chances of succeeding in business are close to none if you aren't giving enough emphasis to marketing.

If there's one thing that sets Ruzuku apart from its competitors, it'd be how minimalistic the platform feels. However, while that may be a good thing for some users, others consider it a huge disadvantage.
Creating a course
The moment your account is created, you won't be greeted by a plethora of features or functionalities unlike the first two platforms we discussed. The only thing noticeable you'll see is their "Create a Course" button.

See what I mean?
What's more, when you click the "Create a Course" button and add a title for your course, this is how their interface is going to look.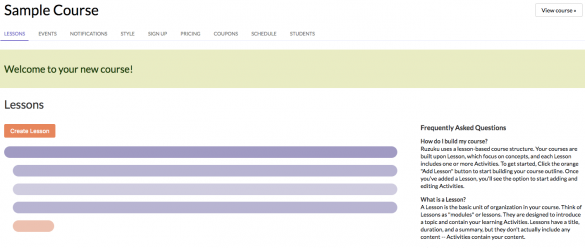 With how uncomplicated their interface is, the users are never going to feel a sense of overwhelm when using the platform.
Pricing
Ruzuku has three pricing points:
Starter
Billed Annually: $58.08 / per month
Billed Monthly: $79 / per month
Bootstrapper
Billed Annually: $74.75 / per month
Billed Monthly: $99 / per month
Up-and-Comer
Billed Annually: $83.08 / per month
Billed Monthly: $149 / per month
Pros
In addition to how simple and easy to use Ruzuku is, it is one of the most affordable course creator platforms in the market.
If you don't have the technical know-how to start your own online training portal and your pocket isn't as deep, then Ruzuku might be the platform for you.
Cons
The platform is a bit too simplistic to the point where it lacks several crucial features. For one thing, it barely has any marketing features. It's sales features are also quite lacking since it doesn't allow upsells, monthly subscriptions, and bundles (among other features).
The platform's design customization is also quite inflexible.
What's next?
Overall, it looks like Kajabi wins by a landslide since it is the most comprehensive platform that you can use to start selling digital content. You can even use it to collect leads, do upsells, run affiliate marketing campaigns, or turn your leads into paying clients.
Are there other course creator platforms that you think should be added to the list? Please add them in the comments section below. Cheers!