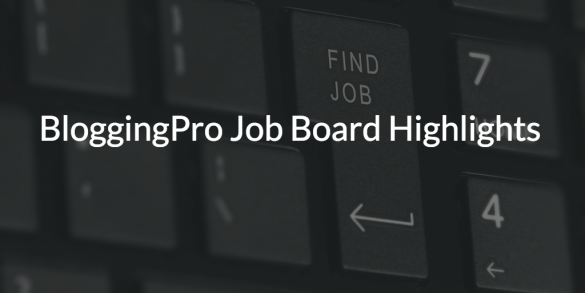 I hope you all had a good Thanksgiving weekend and that you're ready to get lots of work done as we end the month.
Here is your weekly dose of paid blogging jobs. Good luck, and have a productive week ahead!
Paid blogging jobs
Beaconfire RedEngine seeks independent contractors to be part of their marketing team to develop, edit and refine campaign messaging on behalf of progressive nonprofit organizations.
They seek contractors who have the following characteristics and skills to be applied to fundraising, advocacy, and online marketing campaigns.
Content Conquered is seeking a freelance writer with experience writing email marketing autoresponder messages to help create content for a number of projects, including series for:
Marketing agencies (2)
Freelance writers
Fine jewelry/eCommerce retailer
If you're upset about Donald Trump's rise, then this project will allow you to fight back and get paid in the process.
LearnProgress.org is looking for progressive writers who follow directions, hate bigotry in ALL forms, and are willing to do what is required to spread the facts about Donald Trump and the need for a progressive movement in America for social justice.
As a Buzzworthy Freelance Writer, you will primarily write for One Green Planet's Buzz Monster Channel creating fun and incredibly impactful content geared towards inspiring other Green Monsters to take action for animals and the environment. Buzzworthy Freelance Writers typically write between 2 and 5 buzz posts per day.
Klassy Kreations is a wedding and event design studio with a focus on creating stylish timeless events and provide their clients with an amazing client experience.
The social media manager/wedding marketing manager will work in collaboration with the owner to build online brand awareness. They require a minimum of 10-15 hours a month, with a flexible schedule.
Author:
Noemi Tasarra-Twigg
Editor of Splashpress Media, writer, and geek bitten by the travel bug.