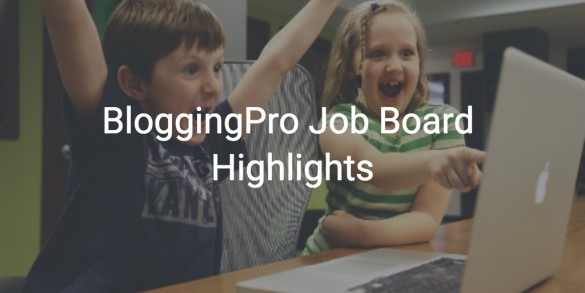 Good morning, BloggingPro job seekers.
Here is your weekly dose of paid blogging jobs. Good luck, and have a great week ahead!
Paid blogging jobs
WordCandy.co is constantly on the lookout for talented writers – both full-time in-house employees and part-time remote freelancers. They specifically need online marketing bloggers, so if this is your specialty, apply for the job now.
Passionate about baby gear? Have young kids? Come join Baby Gear Spot's team of freelance writers!
The topics they need covered are primarily centered around baby gear (think cribs, car seats, strollers, baby food, etc..). You need to be able to commit to at least 12 articles per month at about 1,500 words per article.
Mic is looking for a passionate, highly motivated writer who will work with their new gaming team. This applicant must have a strong knowledge of SEO, a distinctive voice and gaming expertise. Applicant must have a working knowledge of new games and consoles and classic series — think Pokémon Go, Pokémon Sun and Moon, Overwatch, Civ 6, GTA, Zelda, Super Mario Run, Assassin's Creed, Final Fantasy and even some e-sports.
Local Finder LLC needs a blogger to start with 4 blog posts per month and go for more if you can deliver consistent quality work. Each blog post will be between 1000-2000 words per post.
Their service is a SAAS that index Tenders and Procurements from all around the world. Companies join them to find business opportunities they wouldn't even consider. Their users find new ways to export and partner with other companies.
Please note that they wish to have very high editorial standards.
Yellow Bear is building an Encyclopedia of all the people, products, and organizations innovating in New Media. They also feature commentary on New Media and are looking for people to review New Media experiences, research and write thoughtful opinion pieces about New Media (from a bevy of critical perspectives), and conduct interviews with some of the leaders in the field. Ideally, candidates will be able to contribute weekly, but they are open to more flexible schedules as well.
Author: Noemi Tasarra-Twigg
Editor of Splashpress Media, writer, and geek bitten by the travel bug.