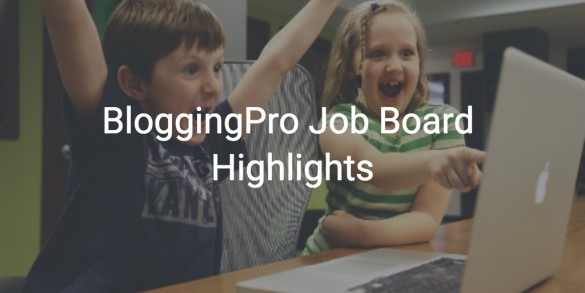 Happy Monday, everyone. I hope you're all having a good morning.
Here is your weekly dose of paid blogging jobs. Good luck, and have a great week ahead!
Paid blogging jobs
L.A. Loft Blog seeks writer to help start the Loft Wars initial script in December. Starring the most amazing open space architecture, Loft Wars will be presented initially as a pre-series of experimental shows, previews and pilot episodes in 2016. Plans are to coalesce the most popular aspects of Loft Wars into a regular weekly TV show with daily online video components.
A company is looking for a self-starting fitness & nutrition writer that can write engaging content for male and female audiences. They create custom tailored fitness and nutrition plans from registered dietitians and certified personal trainers. They focus on holistic health and people who live a busy lifestyle with limited access to a 10-hour prep day or a completely vegan high maintenance diet.
Pagely is seeking accomplished authors to contribute to the Pagely blog. The blog audience consists of CXO's, VP's, Directors and Engineers from for-profit businesses, non-profits, government and education spaces. Topics run the gamut from general business advice to technical topics related to WordPress and anything we believe would help their customers be more successful.
"Write with Warnimont" needs a couple of bloggers for some of his clients. Experience: WP, web design, e-commerce, and mobile apps.
SimpleTiger is looking to fill a contractor position in the role of Content Writer for one of their exclusive clients. If you meet the following criteria send in your application.
Author: Noemi Tasarra-Twigg
Editor of Splashpress Media, writer, and geek bitten by the travel bug.