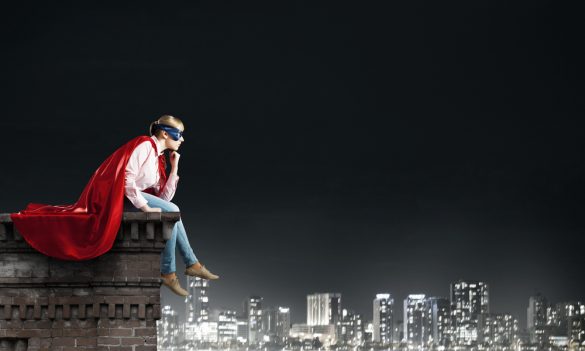 Marketing for startups presents challenges that big companies do not have to deal with. To begin with, these fledgling ventures have to start from scratch. You have no name recognition to build on, competition is fierce, there are too many digital options for marketing and it's overwhelming, and budget is limited.
Startups typically have to conserve resources, hence they resort to bootstrapping methods to market themselves. Blogging is a relatively inexpensive tool to increase visibility, drive traffic to your business and ultimately win customers.
But, how to blog and stand out from the rest?
Blog with the aim of achieving thought leadership status.
Thought leaders are people and brands who have gained recognition as an authority in their field. They are trusted sources that others turn to, to gain new ideas and knowledge in a certain area. They spout innovative concepts and out of the box insights that provoke the readers' minds.
"A thought leader is someone who creates something before people realize that they need it. Best example, of course, is Steve Jobs. Richard Branson too."
– Guy Kawasaki
Sadly, you cannot proclaim yourself as a thought leader. It is bestowed upon you by peers, friends, fans and followers. Your unique perspectives are mentioned in blogs, the media and by other industry experts. Thought leaders are typically persons rather than companies. Think Arianna Huffington and Elon Musk, who have since founded other successful companies after their first startup. By association, the companies they own or represent are indirectly promoted and gain credibility, thus making it easier for them to sell their products.
If you're looking to add to your pool of marketing strategies and spend more effort than money, give thought leadership marketing a serious shot.
Content marketing by blogging can transform you into a thought leader. The articles you write should be high quality pieces containing trustworthy with information with your own original opinions and ideas. People who read your posts will become regular followers and eventually buyers.
Startups are in for a lot of competition from similar business who've had the advantage of an earlier opening. A Better Florist, a flower delivery service in Singapore that kicked off in 2015, has regular weekly posts on its blog that give a lot of tips and ideas related to blooms and bouquets. A blog with valuable content will drive more traffic and improve SEO, giving the startup better visibility.
It's an opportune time for this new entrant to start a high-caliber blog for better visibility and more traffic.
"A thought leader is someone with proven expertise and experience who isn't afraid to share it with the world without direct compensation."
– Jay Baer
Thought leadership marketing is not about overtly selling your product. It's about producing content that veers away from the norm. Examples are posts of ideas that go beyond what is common knowledge, yet they are educational and informative. Or it could be tips, techniques and data from recent research that are helpful for its target market. Kiip.me, a startup mobile advertising platform whose clients are app developers and brands, blogs consistently. Topics range from solutions for app developers to consumer trends that guide companies' advertising strategies. With high value content, it succeeded in creating an interest for its ideas that led to a desire for its product.
Through blogging, you can demonstrate your expertise in your industry and increase visibility, thereby attracting more people who are potential clients to your startup. As you build your credibility, you bolster your authority and you can sway people's opinions. You build relationships through which leads are generated.
Your blogs gain additional exposure by linking to them in your social media accounts. The social platforms you choose should be appropriate for your target audience. The message you put across in these social sites should be compelling, timely and brief to draw the readers. Social networking is also a channel for engaging with them and allowing their participation. It turns into an opportunity for you to educate them and win them over to your way of thinking without pressure to buy.
You can achieve thought leadership through inbound marketing. Add value to your blog with enlightening content through podcasts, videos, social media and newsletters. This will increase your SEO and make you more visible; hence, speeding up the attainment of thought leadership status.
There are essential elements of blogging for thought leadership to make the readers notice you and pique their interest. Focus on your niche and target market and direct your blog towards giving them valuable related information. Discord, a startup voice and text chat created for gamers only, has regular blog posts targeted to their market (gamers) that is difficult for non-gamers to comprehend. Since gaming is a dynamic industry, its blog provides the latest and trending ideas and insights. Think of how you can impart value to the readers, not how you can convince them to buy your product. Be real and transparent.
Thought leadership forges new relationships where none existed. Nurture them and stay committed to the values you uphold.
Startups that blog for thought leadership understand its significance as a strategy for growth, from an unknown enterprise to industry prominence. Combined with other marketing strategies, a great product will get the attention it deserves.