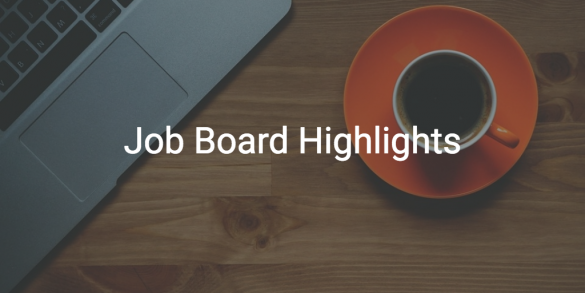 Good morning, BloggingPro job seekers. I hope you're all feeling great about the week.
Here's something to help motivate you even more: the best blogging jobs from our Job Board.

Paid blogging jobs
CinemaBlend seeks an enthusiastic movie fanatic for a freelance news writing position. Ideal candidates will be self-motivated wordsmiths with up-to-date knowledge of the entertainment industry and an appetite for all things movies. This is an entry level position with room to grow.
We're looking for someone who's up for writing on a variety of movie-related topics, has a good sense of humor, pays attention to details, and a writes with a fun, conversational tone.
Do you like writing about YouTube and getting paid for it?
The Scout is on the hunt for experienced writers that are fascinated by the world of YouTube and online video, who are interested in providing readers with stimulating, inspiring, and thought-provoking articles.
The Editorial team is at the core of everything New York Media does. Our team strikes the perfect balance of content that's smart and funny so that our readers know everything they need to know to navigate a fast-moving culture, whether that's up-to-date information on political events, cultural developments, fashion trends, or the latest scientific breakthroughs.
The focus for our Weekend Social Media Editor role is to attract readers to New York Media's stories across all verticals during weekend hours.
Do you obsessively seek out news, interviews and spoilers about your favorite TV shows and celebrities? Are you constantly checking RSS feeds and social media accounts to stay up to date on the latest gossip and trends? Do you find yourself constantly sharing your opinion on these topics with friends, and maybe a stranger who will listen?
Write for us! BuddyTV is hiring knowledgeable experts to cover the latest breaking news and willing to share their opinion on some of television's hottest shows.
SmartBug Media, a leading digital and content marketing agency, is seeking a freelance writer with experience in sales enablement, account planning, and in-depth knowledge of Salesforce. MedTech experience a plus.
We want someone who consistently delivers high-quality work in the form of blog posts, e-books, and more.
Author:
Noemi Tasarra-Twigg
Editor of Splashpress Media, writer, and geek bitten by the travel bug.