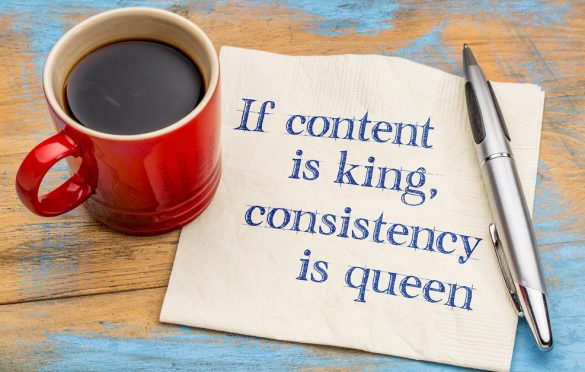 There's an old axiom that says: when the going gets tough, the tough get going. It's good motivation, but it doesn't tell the whole story. The truth is that the people who prepared for tough times are more likely to find their way through to the other side without it disrupting their routine and what matters to them. If you're a blogger who values regular posting, planning for hard times before they strike can make a major difference in how they play out. Of course, if you're already experiencing a hard time, there are emergency steps you can take to keep your blog active and engaged.
The Benefits of Regular Posting
Writing a blog that is popular and successful is about finding the right niche, having a great tone, publishing excellent content, and posting regularly. The regular posting part is something that bloggers struggle with at times.
Regular posting helps keep readers engaged. They know that you're going to update, so they're willing to visit your site regularly and share it with others. A 2012 State of Inbound Marketing report even showed that bloggers who posted more frequently were more likely to get customers from their blogs. If the person posted only once a month, the number dropped by about 33 percent.
When you post more often, your readers are more engaged.
How to Blog Consistently
It can't be stated enough that planning is essential if you want to create and keep a blog schedule. Sit down with a calendar and decide how often you want to post, which days you want to post, and be honest with yourself about what's possible for you. If your blog is part of a business venture, you might need to put more time into it. If it's a personal blog that you aren't hoping to monetize, posting once every week or two may be enough to still get an active readership.
Once you have a calendar, start thinking of topics. Remember that certain times of the year might bring special topics – holidays, industry deadlines, or important news cycles can influence what you write. It's okay not to know exactly what you'll write about, but it will be easier to write those articles if you know what you're writing about.
Don't wait until the day you're publishing a post to write it. Start now and get at least a month ahead, if you can. That way you aren't worrying about editing, photos, and getting things together at the last minute. If you have the posts set, scheduled, and ready to go, you don't have to worry when something pops up and you're a little behind.
Blogging When Things Get Tough
Sometimes disaster strikes and you find yourself with less time, less inspiration, and less ability to write than you expected. For example, the death of a family member might prevent you from having the clear, positive thoughts you need to publish the types of posts your blog specializes in. Working with injury lawyers to take a case to court can be a double whammy of time away from the computer and physical pain that makes it difficult to focus. Being in a natural disaster can prevent you from using your computer and may have you spend significant time away from home or without the right equipment. Things like these impact your ability to deliver posts.
So what if something happens and you don't have posts set and scheduled yet?
First, reach out to friends in the blogging world and see if they can swing a few guest posts for you. Guest posts offer the opportunity to promote the writer's own blog and expose your blog to their audience as well. Finding bloggers who write in the same niche as you will help capture the interest of your readers.
Next, look back at some of your saved writing and see if there's anything you can quickly develop into a piece. Not starting from scratch can sometimes help you get going and finish up a post or two that you can write and post or schedule in one afternoon.
Finally, take a break from the situation and try a change of venue. Go to a local library or coffee shop and use their Wi-Fi to go online, brainstorm, and start writing a new post. Sometimes taking a break from a difficult situation and focusing on something else can help spark an idea and help you get a new post done.
Keep Up With Your Audience
If you aren't going to be able to keep up with your blogging schedule, publish a post letting your audience know that posting will be suspended for a time. Try to estimate when you'll be back and remember that it's better to overestimate than to underestimate. If you say you'll be back in three weeks, plan to have regular posts again in three weeks.
Letting your audience know that you won't be posting and that it's a temporary thing is a respectful way to engage with them. It also shows them that the blog isn't going to be dormant forever. People may take a break from visiting, but they'll come back eventually. A person who visits a blog with no new posts – and no explanation for the lack of activity – may visit once or twice and then give up on it altogether.
Keeping up with your blog when things get rough should be a three-pronged approach. First, prepare for the unexpected by having posts ready far in advance. If you have a few extras set aside for a rainy day, that can also help. Next, reach out to the community for content if you need it. It can provide exposure opportunities for both parties. Finally, keep up with your audience and let them know the lack of posts is temporary. Soon things will clear up and you'll be back to your normal blogging schedule.