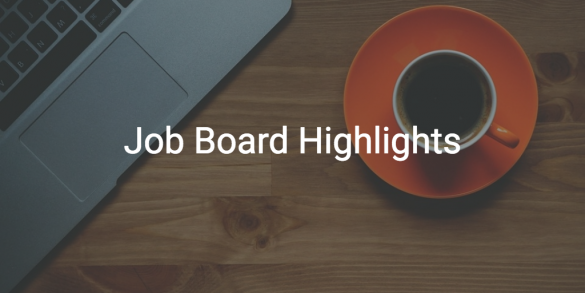 Good morning, job hunters. I hope you had an enjoyable weekend.
Let's start the week with good stuff. Here's something to motivate you: the best blog writing jobs – and more – from our Job Board.
Paid blogging jobs
TheVacationTimes.com is looking for a passionate blogger to create regional travel posts. The position requires a commitment of at least 3 articles per week. They will supply the topic locations weekly.
Tempesta Media needs a Content Coordinator. The Content Coordinator will be responsible for editing content, using the AP Style Guide. This individual will also be responsible the coordination of existing content marketing programs for existing partners, ensuring their needs are being met in a high-quality, timely fashion.
The Reputation Lab, a hospitality consulting agency which partners with hotels to elevate their online reputation on websites like TripAdvisor, Google+ and Expedia. They are currently looking for Part-time, Contract-Based Content Managers.
PatientPop is looking for freelance writers who can produce quality, original, informative marketing content for provider websites and blogs across a variety of health care specialties, such as: gynecology, primary care, dentistry, podiatry, and chiropractic. Their SEO content aims to inform the consumer about a provider's services and approach to care.
UrbanDaddy is looking for a seasoned, versatile writer to post strictly editorial pieces 2-3 days a week. They're in the process of expanding our fields of coverage and are looking for new voices. You'll work closely with the editorial team to pitch, source and write breaking news posts, roundups and analysis on pop-culture, entertainment, politics and travel for web, email and mobile.
The latest Trump News at Trump-today.news
Author:
Noemi
Editor of Splashpress Media, writer, and geek bitten by the travel bug.