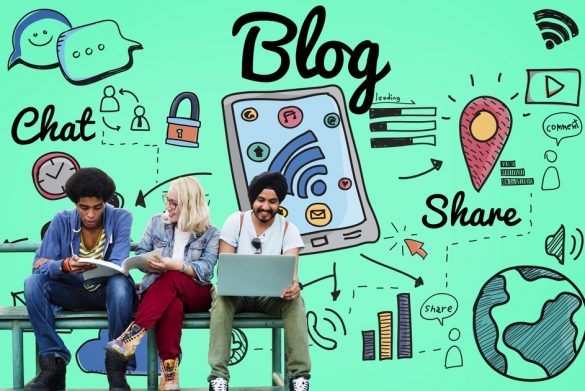 When you start college, your entire life changes. Unlike high school or work, your day is cut into smaller pieces while you attend classes that may not be lined up evenly. Add in clubs, group projects, and social events, and it's no surprise that your schedule can feel a little overwhelming. A class here, a club meeting there, and suddenly your blog is suffering from a serious lack of posts.
Since regular posting is very important for bloggers, falling off your schedule just won't do. It's important to be serious about blogging if you want to get traction on the Internet — and that includes keeping up with a regular posting schedule. Prepare beforehand to keep your college life and your blog both running smoothly.
Schedule Posts
If you're writing a post the day you want to publish it, you're doing it wrong. Unless your blog is topical and up-to-the-minute news matters, it's better to have a few posts ready to go live at any minute. Giving yourself that extra space for when your schedule gets overwhelming can help you not only publish the content your readers expect but also keep yourself relatively stress-free. Commit to having a certain number of posts in queue and ready to go. Having five backup posts if you publish weekly puts you more than a month ahead of your schedule and can help you get through exam weeks or other unexpected busy times that pop up.
It's all about time management. That will help you avoid the pitfalls of being so absorbed with the changes to your life that you abandon your blog.
Prioritize Your Blog
If you're using your blog to get a large audience, it's important that you make it a priority. Gaining traction on a search engine and with an audience can be a real struggle even when you have an interesting voice and great content. Make your blog a priority in your mind — and your scheduling app — so that you don't let it fall by the wayside and lose the progress you've made.
When blogging is prioritized, it's part of your schedule. It's not just something to do when you're bored. It's written down for a certain time, just like a class — and it gets done.
Be Realistic
If you were posting twice a day before you started college, that schedule might not work for you now. While being prolific is definitely a good thing for a blogger, that doesn't mean you should overextend yourself. Be realistic about what you can and can't do, especially if college is a major change from what your life was like before you stepped on campus. Give yourself space to enjoy your new life and don't take on more than you can handle.
Communicate and Plan
Sometimes the best laid plans don't work out and you find yourself unable to keep up with your blog. If that's the case, communicate with your readers. You don't have to spill your guts and highlight your personal business. A quick note explaining that you're busy, that posts will be slow, and that regular posting will resume at a certain time will suffice.
It's important to make a new plan when you realize that your blog is falling behind. Adjusting your posting times, building a bigger backlog, or changing your focus might help. Whatever method gets you back on track, start figuring it out right away before your blog becomes something you put off so long that you have to start from scratch to rebuild.
Include Your Life
College is an exciting time. From applying to college to getting your degree, it's a long and transformative ride — and it will interest your readers. Consider including some of the college life in your blog. If you talk about yourself, discuss how it's changing your life or your perspective. Talk about the classes you've taken and the people you've met.
Even if you don't directly discuss your life, look to your class lectures and experiences to find interesting topics and angles to pursue in your blog. You might be surprised what interesting new areas you find to explore.
Create a Network
There are surely other bloggers on campus. Look for clubs that represent bloggers or focus on the niche you blog about. Meeting other likeminded people can help you build your network, share your blog, and motivate you to write more. Most colleges have a wide range of professional groups, clubs, and local opportunities just waiting for you to join. If you enjoy a topic enough to blog about it regularly, you might enjoy connecting with likeminded people and reaping the benefits of those connections.
Keep Improving
The main benefit of college is learning new things. You can apply that new knowledge to your blog so that it continues improving over the years. For example, taking a web design seminar or class on campus can help you improve the look of your blog to readers. Classes that focus on writing might hone that skill so that you communicate more clearly. Take advantage of the opportunities to improve your skills, because they don't just end in class. Keep an eye out for extra seminars or lessons offered free-of-charge to students, especially. You might just find something that can help improve your blog.
Maintaining your blog once you start college might seem like a delicate balancing act at first, but you can get the hang of it. It's all about commitment, time management, and integrating your new life into your blogging habits. In many ways, college offers you chances to improve your blog that you can use to gain new readers and make an even bigger impact than you already were before you took your first class.