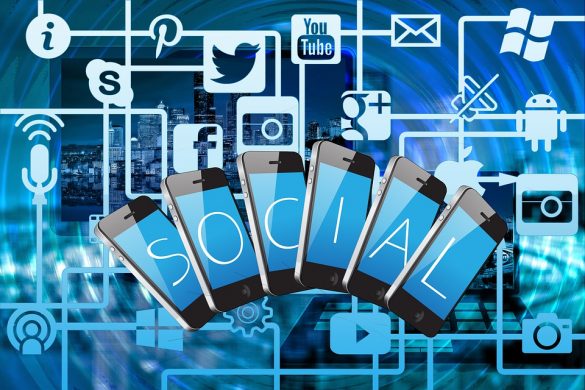 2017 has been quite a year for social media marketers, hasn't it?
From the surging popularity of Instagram Stories to Facebook's big push for live streaming to the emergence of Big Data, current trends signal the need for bloggers to start reconsidering their social media marketing strategies this 2018.
At any rate, it's plain obvious that there's a continental shift going on in how we share information through social media.
As a blogger, it's imperative that you pay attention.
You might be thinking, "Why bother? I'm already busy writing blog posts as it is!"
That's a fair point. But then again, the most successful bloggers will tell you that in order for you to continue generating traffic to your blog, then you need to sue the right social media marketing strategies.
If you're wondering which among the many social media strategies are still most likely to work this coming 2018, then I'm glad you're reading this article.
Follow along. I got you covered.
1. Use social media automation tools
Navigating around social media — searching and reading through brand mentions, interacting with customers, writing relevant posts, the whole shebang, basically — takes time.
That said, social media management can be a pain to deal with IF you aren't using any automation tools.
So why not use one for your social media marketing endeavors?
Managing social shares
Since you need to generate more traffic to your blog through various social media channels, writing social media posts — on top of writing blog post — should be included in your list of to dos.
To get better results and increase your productivity in your social media marketing efforts, you'll want to connect and integrate your blog's social media accounts.
Needless to say, a social media automation tool can speed up that process for you.
One such tool is Buffer, a social media management software that provides bloggers a powerful platform for social media sharing.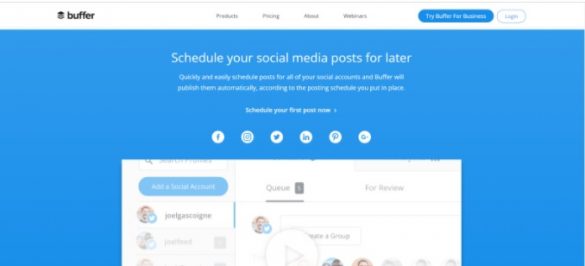 Growing your Twitter audience
Despite Facebook's current dominance, Twitter continues to be a lucrative place for marketing your blog. In fact, according to Statista, Twitter had around 330 million users in the third quarter of this year.
What this tells you is that bloggers have much to gain by doubling down on their Twitter engagement in 2018.
How? Well, there are Twitter automation tools for that.
One such tool is Narrow.io.
The platform can help you grow your audience by automatically "liking" tweets and following accounts on your behalf
Furthermore, if those accounts do not follow you back after 24 hours, Narrow has a feature that you can enable which will automatically unfollow those accounts.
With Narrow, you'd be able to grow your Twitter followers without you having to do much tinkering on a daily basis.
Image credit: Social Media Worldwide/YouTube
Pretty nifty, right?
So how does that work?
First, you need to enter keywords and hashtags relevant to your brand and niche. As you run the search, Narrow provides you with a list of "audience" results.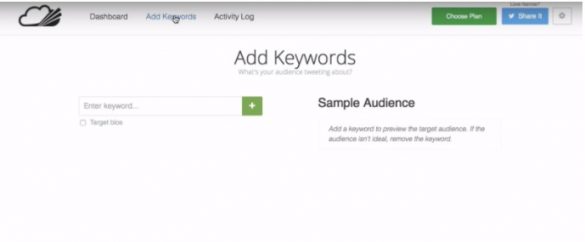 Image credit: Social Media Worldwide/YouTube
If the "audience" results are to your liking, you can proceed with using the keyword you entered and just allow Narrow to do its magic.
You can also login to your account every now and then to check the results the platform has generated for you. If the results leave much to be desired, you can make the necessary adjustments to get better results.
2. Use social listening
The social media space has a treasure trove of information you can use in marketing your blog.
To grow your readership, you have to understand what your audience wants. As such, you will do well to keep up with what your audience is saying on social media.
Conversations about your brand or your chosen industry are happening all the time. And tuning in can help you come up with effective strategies on how to respond to potential leads.
To do this, you have to incorporate social media listening into your social media marketing strategy.
Granted, logging into Facebook and Instagram and then doing manual searches for brand mentions can shave away countless hours from your blogging schedule.
Thankfully, there are social media listening tools that can do all that for you in a matter of minutes.
Let's take a look at SentiOne for example. As a reputation management tool, SentiOne can sweep the internet for mentions of your brand with minimal effort.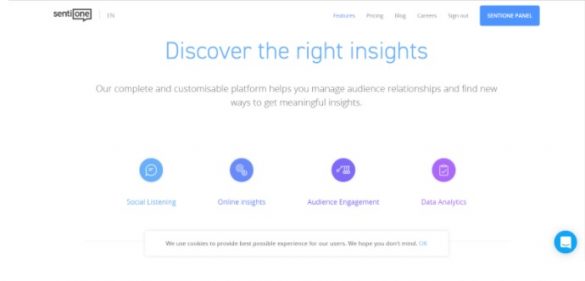 By entering keywords relevant to your brand or niche, you can track brand mentions across different social media platforms in real-time.
To start creating your projects, you need to choose from: Brand, Social Profiles, Other, or Advanced Project Configurator.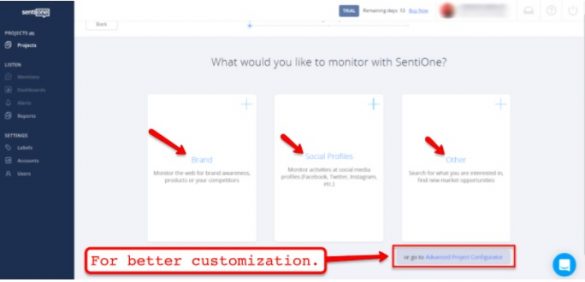 You can even narrow down your search to come up with more relevant results.
Simply enter specific keywords, domains, URLs or languages that you want to include or exclude and the tool will do the rest for you.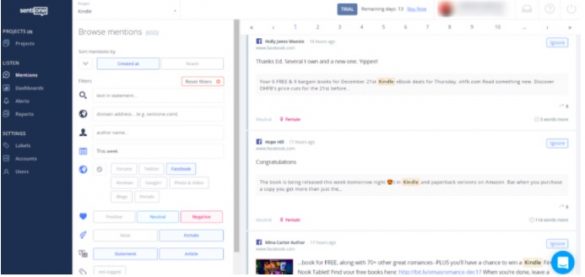 Impressed? Wait, it gets better.
When you create a new project, you get access to a dashboard, which presents graphs, charts and figures that provide a bird's eye view of your search results.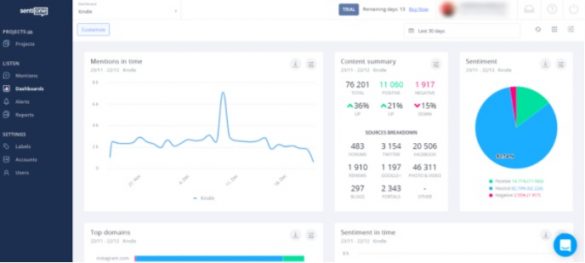 As you can already tell, social media listening tools can give you all the data you need to come up with profitable content topics for your blog.
To top it off, social media listening tools also provide you an efficient platform for interacting with users who happen to mention the keywords in their posts.
Doing this on a regular basis increases engagement, even more so in the coming year since brand fatigue in the last few years may have shifted people's interest to more local, interpersonal interactions.
3. Leverage User-Generated Content (UGC)
User-generated content (UGC) has become an integral part of successful marketing campaigns in the past few years, and recent trends show that UGC-driven strategies are going to pick up more steam in 2018.
There are plenty of statistics to back this up:
UGC-based ads get 4x higher click-through rates than traditional ads.
Consumers between the ages of 25-54 share user-generated content.
93 percent of users find UGC helpful when making purchasing decisions.
71 percent of consumers are more likely to buy a product after reading user-generated reviews.
These results are not in the least surprising given the fact that UGC lends a degree of authenticity to brands that corporate-sponsored content cannot hope to match.
After all, consumers are more likely to trust other customers like themselves since they don't appear to have a specific vested interest in promoting the business.
As a blogger, you'll be remiss not to capitalize on this buying behavior in your efforts to grow your blog's audience.
But how can you generate more traffic to your blog using user-generated content?
Launching social media contests
There are many ways to do this, but one popular strategy is to run social media contests.
If you're managing a parenting blog, for instance, you can host a photo contest where followers are asked to send or upload their baby's most adorable photo.
Not only will this strategy spark interest from your followers, it can also generate more followers who want to participate in the contest.
Moreover, you can increase the visibility of your social media accounts by incentivizing social media shares and likes.
But why stop at photo contests? If you want to be ahead of the curve, you have to set your sights on Instagram Stories.
Why? For starters, Instagram Stories is the fastest growing social media feature in 2017. According to a June report by the company, 250 million people are using the feature daily. At the rate it's going, Instagram Stories will become even bigger in 2018.
What makes Instagram Stories a perfect avenue for generating user-created content is its myriad of stickers and filters, giving users a lot of room to express their creativity.
By asking users to showcase their creativity in a way that promotes your brand, you are not only engaging them in the best way possible, you are also creating golden opportunities for converting potential leads.
What's Next?
Do you have other effective social marketing strategies you're using to generate more traffic to your blog?
If you have anything to share with our community of bloggers, feel free to post them in the comments section below!
Cheers!