Do you remember the last time you actually opened a physical magazine? It's probably been a while, right?
Truth is, there are a lot of people who still subscribe to physical magazines. But the number of people opting for online magazines has increased substantially and now many bloggers are looking to set up an online magazine or magazine-style blog. To do so, you need to make sure that you have the right resources.
The first and foremost element you should consider for a WordPress site is a magazine WordPress Theme that will give you the appropriate features and functionality you need.
Free beautiful WordPress magazine themes for inspiration
Click To Tweet
We've put together a list of beautiful WordPress magazine themes for inspiration.
Free WordPress Magazine Themes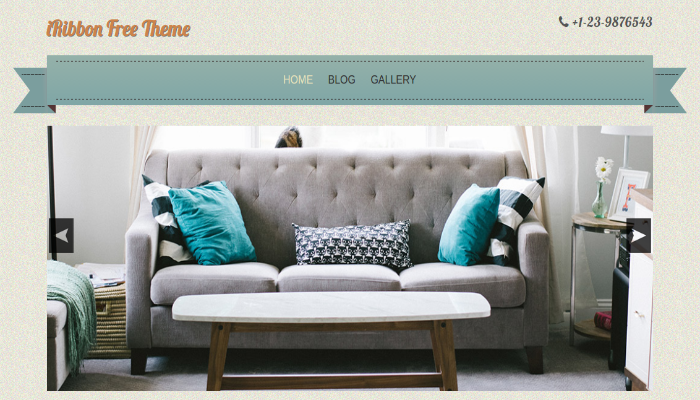 iRibbon is a vintage-style fully responsive WordPress Theme that will help in creating a website adaptable to all devices.
You can showcase full-width stunning background images depicting your website theme. This is a translation-ready theme and supports 18 different languages. iRibbon comes with a plethora of customization and typography options.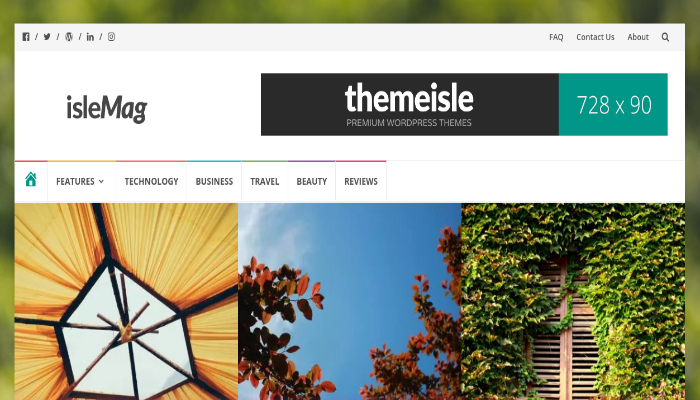 Islemag is a stunning theme to create an online magazine. This is a responsive WordPress theme that will suit all devices – mobile, tablets, iPads, etc. The theme has an option to set up ad banners, by which you can monetize your website.
It has a carousel slider – which works hassle free throughout the site, giving a clean and interesting look. The best part is that this cheerful and colorful theme is completely free.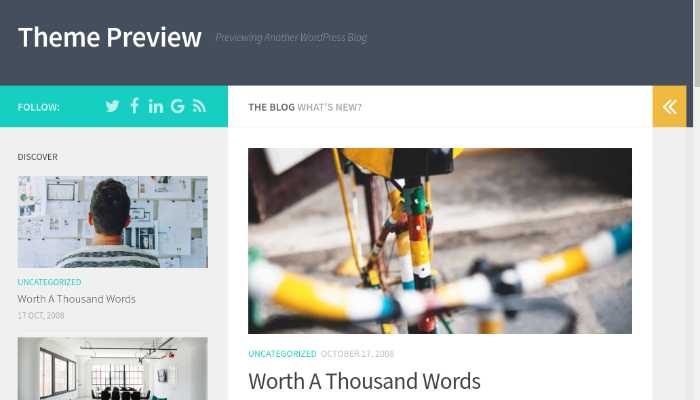 Hueman is a beautiful theme perfect for mobile screens. Along with plenty of free and premium plugins, you can customize this theme as you want. You can showcase featured stories and posts on the slider and lead the site visitors from here to the popular posts.
You can monetize your site with the help of header and footer advertisement options. The theme also has options to feature the blogs posts in two column or three column layout.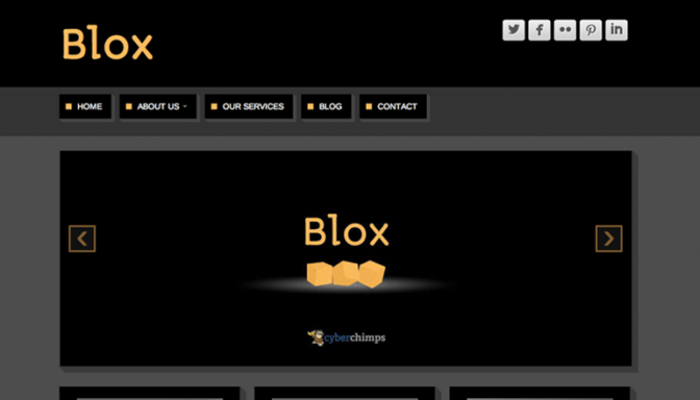 Blox is one of the best magazine-style WordPress themes. It is a fully responsive WordPress theme with drag and drag options to customize the theme just the way you want. The theme is translation-ready and comes up with an option to customize header, footer and the menu.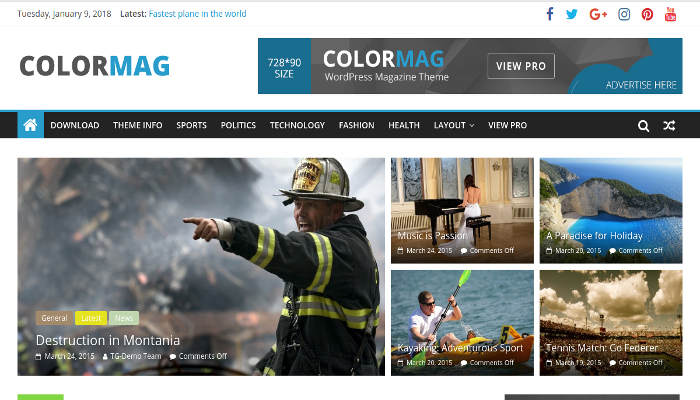 Color Mag is a superb theme for an online magazine or a newspaper. Custom settings for background, color, header, and menus make it an immensely flexible WordPress theme.
With ad banners, various companies can reach you for advertisements. This way you can monetize your site and start earning quickly.
MH Magazine is a fully responsive, creative WordPress theme for online magazines or newspapers. With an interesting layout, this is a theme that comes with custom widgets, contact form 7 integration and is translation-ready. With MH Magazine you can create professional editorial websites.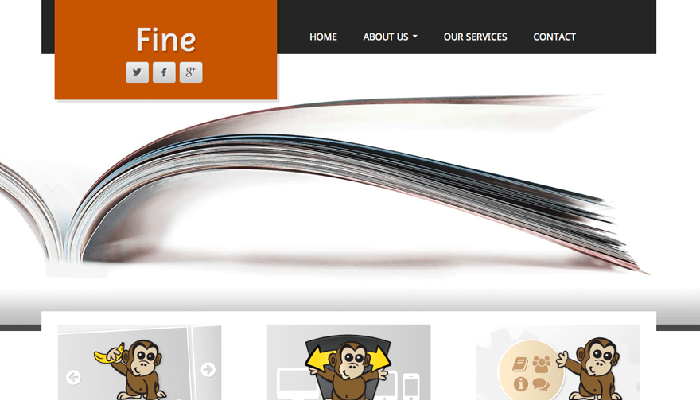 Fine – as the name suggests – is a fine WordPress theme for writers, creative artists, and bloggers. This theme is based on a responsive model and adapts to any device.
It has a lot of customization options like a full-width image, color, header and footer controls, layout designs, etc. Fine also has drag and drop elements, as well as a slider.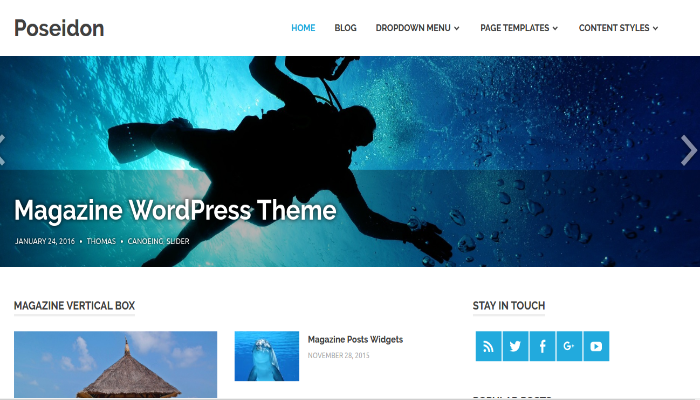 Poseidon is a clean and minimalist WordPress theme. With all the sections in the theme arranged in a sophisticated pattern, it becomes easier for the visitor to find exactly what they are looking for.
A captivating image can be featured in its header section. Logo, header, footer, etc. can also be customized.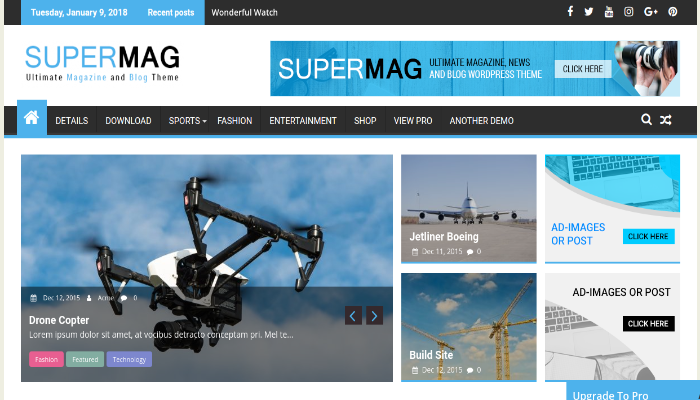 SuperMag is a perfect magazine-style WordPress theme to feature news and articles. Logo, color, background, and menus can all be customized for this theme. There is an option for a featured section, where you can showcase popular posts.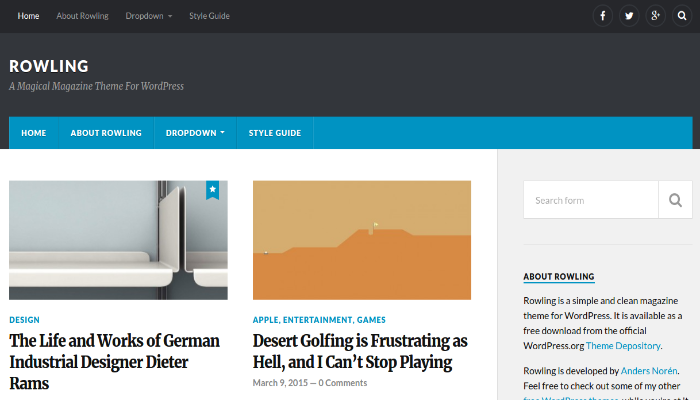 Rowling is a clean WordPress theme for e-magazines. This is a flexible and responsive theme that adapts to any device. It has an elegant and sophisticated design with a lot of white space and a simple layout. You can customize the header, footer options, logo and the menus. It is a translation-ready theme with multiple-column layouts available too.
With plenty of free and premium themes available to pick from, this list should give your project a head start. Happy blogging!