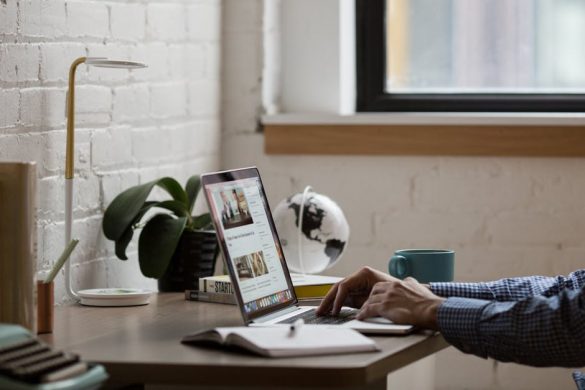 Maintaining a blog offers a lot of benefits. On a personal level, it can help others who may be struggling with the same types of issues learn from your experiences while also recognizing that they're not alone. It can provide therapeutic advantages as well, giving you the opportunity to share your worries, fears, and concerns instead of bottling them up inside.
And if you use a blog as a strategy for growing your business, you can potentially see an increase in revenues by turning your followers into loyal customers. Many companies do this by providing articles designed to help their readers solve some of their most troublesome issues. Other do it as a way to help their customers get to know them better, increasing their trust of the business.
Because creating a blog worth reading isn't always the easiest task, some people choose to steal other individual's or business's content instead of creating their own. How do you know whether this is happening to you?
Checking for Your Online Content
The first step is to do an online search to see if your writings appear anywhere else on the internet. One way to do this is to take a couple sentences from your blog and do a Google search for an exact word match.
Another option is to set up a Google alert using that same passage of text. This enables you to be notified immediately should someone duplicate your content by posting it on their own site, whether they have republished it in your name without permission or are trying to pass it off as their own.
In addition to stealing your written content, if you use images in your blogs, it's possible that those could be taken and reused too. Fortunately, there is a super-easy way to tell if this has occurred and it involves doing a reverse Google image search.
To search your image on Google, simply go to Google Images, click the camera icon on the right side of the search box, and then click the "Upload an image" tab. Select the image you want to check and, once it is uploaded, Google will automatically search the web to see if it appears anywhere else online. What do you do if it is?
How to Respond to Stolen Content and Images
Whether it is your words that have been stolen, your images, or both, getting the duplicate content removed is critical as having the same information published on more than one site can really hurt your search rank. Plus, if they're publishing it in your name without permission, they could publish other content that could ultimately harm your reputation, making its removal critical to helping you build and sustain the image you want.
This begins with first reaching out to the person or business that has published your writings and/or images and asking that they be removed immediately. Sometimes just bringing it to their attention that you know they've taken it without your permission is enough to get them to take the content down.
If they don't respond or aren't willing to honor our request, you can contact the web host and ask that they remove the content. If you're not sure who the host is, go to Who Is Hosting This? Once there, type in the offending website's URL into the search bar and you can learn who the site is registered to, who the administrator is, and the name of the server it is on. That should give you the data you need to contact them directly.
If the host fails to act or if you're not sure how to contact them, you can also request help from DMCA. DMCA stands for Digital Millennium Copyright Act Services Ltd. and it is a company dedicated to helping content creators get their stolen content removed from the sites that don't have permission to repost it. DMCA also offers services related to the protection of content, potentially stopping problems before they can even start.
Though you can't always stop someone else from stealing your written content and images, you do have options when it comes to finding out if this has occurred and getting it removed. These are just a few to consider.