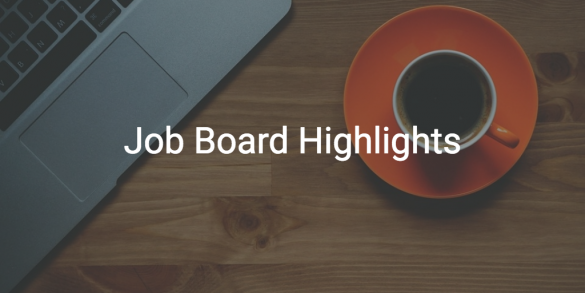 Good morning, job hunters.
Here are the best blog writing jobs – and more – from our Job Board.
Paid blogging jobs
Elite Daily is seeking a part-time Social News Writer with availability Tuesday through Saturday during daytime hours. The ideal writer will be comfortable writing about social news, including Instagram updates, Starbucks releases, and travel deals, but also have flexibility to write across verticals, including entertainment and politics.
Bolde Media is looking for freelance writers to provide content that's provocative, unique, engaging and full of personality. Specifically, they're seeking writers who have a strong voice and the ability to write informally and accessibly, in the blunt and engaging way you'd talk to your best friends. They're looking for new and original takes on popular millennial lifestyle and dating topics as well as pieces that discuss issues and viewpoints that other similar sites aren't talking about.
Studio 73 is a full service digital media company located in Hartford, CT. They service a diverse group of clients with varying creative needs, including the creation of both print and digital content as well as traditional/digital marketing.
Looking for someone to produce blog content, scripts, website copy and some long-form assignments such as white papers. The Copywriter/Blogger is confident in his or her ability to research and format information-rich articles that are both meaningful and concise.
WebpageFX is seeking talented outside freelance writing professionals to write quality content and meet deadlines. This position is an excellent opportunity for versatile creative writers. If your writing and working styles meet their needs, they can provide a consistent stream of interesting assignments.
Riskified is an eCommerce SaaS company that uses machine-learning models to help major eCommerce brands avoid fraud and approve more orders.
Riskified is looking for an exceptional Content Writer who will help expand their digital footprint and drive more value through online content. The ideal candidate should have a proven track record of producing data-based pieces that engage business leaders and tech-savvy readers. This position requires a high level of creativity, analytical skills, and a good understanding of what makes a story compelling to readers and publishers.
Author:
Noemi Tasarra-Twigg
Editor of Splashpress Media, writer, and geek bitten by the travel bug.