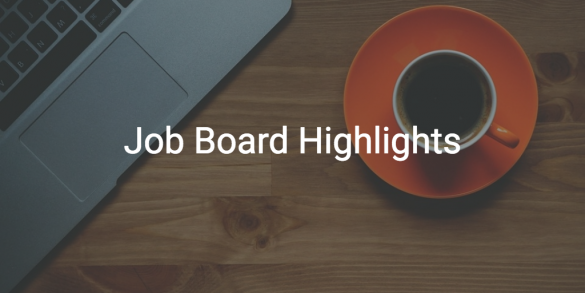 Good morning, job hunters.
Here are the best blog writing jobs – and more – from our Job Board.
Paid blogging jobs
Mommy Poppins is currently looking for the following talented individuals: Local Bloggers
Is your idea of heaven trekking to another neighborhood with your kids to check out a new play space, exhibit, or cool, off-the-beaten-path spot? Are you the parent all the other parents ask to find out what's going on? If so, maybe you should be a Mommy Poppins local contributor. This is a freelance position, paid per article.
Shmoop (www.shmoop.com) is a digital curriculum and test prep company that aims to suck less of the joy of learning out of learning. Especially when it comes to finance.
They're looking for talented writers with vast experience in and a blatant love for money. Know all the 4-1-1 on economic systems, money management, taxation, and saving and investing? Then this is the project-based gig for you. You'll be writing engaging educational material—both text and video scripts—on these topics for an audience ranging from high school through retirement.
Freelance writers and editors are extremely important positions at CopyPress. They create content for hundreds of clients and are always looking for quality writers and editors.
As a writer, you'll need to prove that you have the skills necessary to write coherent, quality content. You'll complete a short onboarding process where they will assess your writing capabilities. Upon completion, you'll start receiving work right away. Assuming you perform well on your first few assignments, you have the potential to earn ongoing work.
Shmoop (www.shmoop.com) is a digital curriculum company that makes learning, teaching, and test prep materials that are—dare we say it—awesome, thrilling, spectacular, magnificent, unforgettable, and smart. Really smart.
To help carry out Shmoop's (mostly benign) plans for world domination, we're looking for talented Project-Based Computer Science Teachers and Writers who go gaga over all things HTML, JavaScript, and CSS. You will be writing engaging computer science teaching materials for students in high school who are interested in web design.
Apex is looking for freelance copyeditors to perform line editing on academic nonfiction books. Subjects range from philosophy to history, anthropology to fashion. Although expertise in these fields is not required, successful candidates will be familiar with the formality and conventions of academic writing.
Author:
Noemi Tasarra-Twigg
Editor of Splashpress Media, writer, and geek bitten by the travel bug.