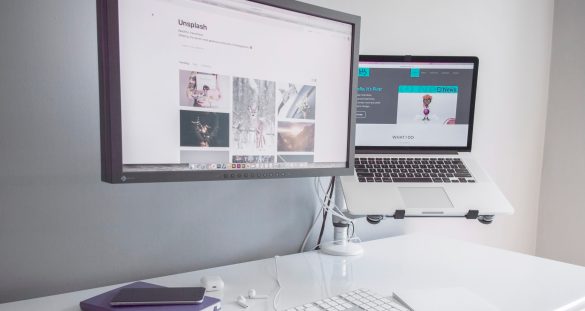 You've been writing blogs for the same company for a couple of years now and they've always been beyond satisfied with your work, yet the number of online conversions just doesn't show it. What are you doing wrong? Why is your content not getting through?
The problem is most likely not in the content itself but actually in the layout. A good website redesign can give your words more power and mesmerize new visitors into becoming faithful consumers. So, how do you do it?
Now, some of the basics that come with refreshing a business's website design (or creating one from scratch for a brand-new company) are pretty cut and dry – include calls to action, keep it trendy yet timeless, and make it pretty.
But how can you take those broad guidelines and create a digital space that doesn't just pair with your brand, but enhance it?
Enter: The F-Pattern.
This simple, alphabetically-inspired layout can transform any old website into a high-conversion motherland of the Internet with just a few specific points of importance.
Why The F-Pattern Is So Successful
While there are an infinite number of layouts that may or may not be successful in increasing conversions for a myriad of reasons, the F-pattern is successful for a very specific one – it is rooted in historical human behaviors.
Think of how most Western societies read and write – left to right, top to bottom. Now think of a capitalized letter "F" (or just look at it right there…) – it draws your eye to the top and left side of the letter. And there you have the secret to the layout's success!
The importance of organizing information into an F-pattern isn't just based on logic, though. Heat maps of websites show the most viewed parts of the page in various studies, and almost unanimously deliver patterns that are strikingly similar to the letter F.
Because of our conditioned behavior and primary language, our eyes truly can't help but gravitate to those parts of a website design, just as they would a book. Thus, capitalizing on that by strategically placing important information in the "line of fire" would naturally increase conversions – it's all a numbers game!
How To Organize Your Content Within An F-Pattern
Inserting your content and information into an F-Pattern website is really quite simple – all you need to remember is less is more, just like your momma said. According to The Next Web, most users only actually read about 20 percent of text on a website, so keep everything clean, streamlined and minimal.
One of the most important aspects of utilizing an F-Pattern is remembering that emphasis is still placed at the top of the page. You can't have endless lines in a never-ending "F." You can maybe get away with an "E," but don't be gratuitous or it will diminish the importance of those first few prongs of content.
Therefore, you should frontload your content both at the top of the page AND at the start of a sentence. This will give it the highest chance of being consumed and retained. Plus, have an extra-important call to action? Don't be afraid to place one within the pattern, or subtly emphasis some information with a tiny animation or trendy design element. Just because it's an F-pattern doesn't mean you can't make a completely captivating website design.
What's more? Not every page needs to be an F-pattern. If you'd like a little more room to spread your creative wings, limit landing pages to the letter "F" and allow the other subpages to soar, just like The New York Times did with their subscription popup.
Need some examples to inspire you? Here are two companies that created effective F-patterns.
Brands That Have Mastered The F-Pattern
1. Fleetmatics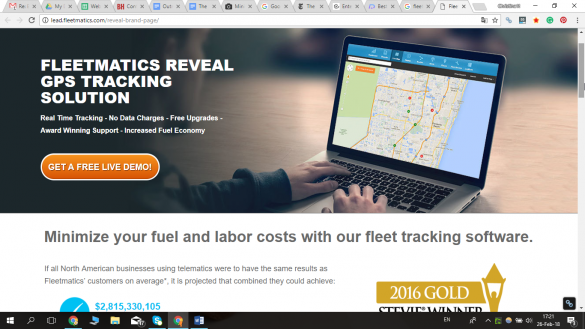 The Verizon GPS tracking subset utilized an F-pattern for a landing page meant to showcase their product and capture new users. While the structure is a bit more left-aligned than purely alphabetical, you can clearly see where the designers are trying to focus your attention – on the free live demo and why the software is so effective. Both prongs of information are crucial to snagging consumers.
2. CNN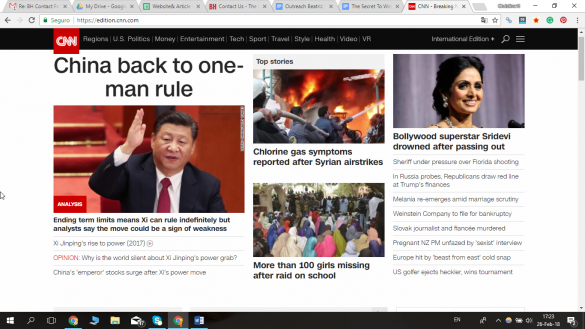 The round-the-clock news site implemented a very text-heavy version of the F-pattern in their homepage, but it works. As you can see above, the initial portion of the letter draws your eyes to the top headline and trending featured articles.
The second, which we can see just before the fold, focuses on the timely Winter Olympics coverage. Less important headlines in a minimal font sans images fill in the space between.
All in all, creating a website that converts is easier than you think! By creating a structure based on human behavior, you'll be able to capture the visitors' attention and turn them into consumers in no time. If you're nervous about going down this road alone (or with the help of a web design template) there are plenty of website design agencies that can help you find the perfect layout that speaks to you and your readers. Give your sentences a makeover and watch the conversions come flying in.
Beatriz Ferreira is a New York City-based graphic designer and freelance writer. When she's not working as the Chief Editor I of DesignRush.com, you can find her drinking copious amounts of coffee, baking in her peanut-sized apartment, or traveling with friends and her tiny dog, Melody.