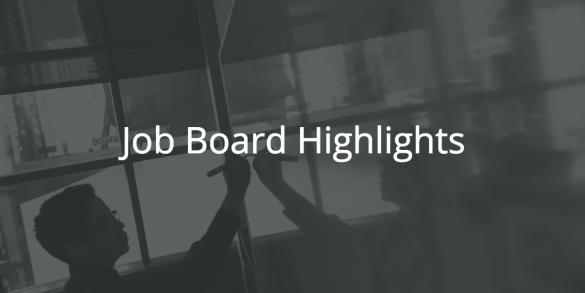 Good morning, job hunters.
Here are the best blog writing jobs – and more – from our Job Board.
Paid blogging jobs
Overlap [overlaphealth.com] is seeking an editor/journalist that will write pieces on all the ways technology, data, policy and health intersect. You should be a great writer, have a journalism background and some basic understanding of content marketing. You like to form compelling arguments in prose but are not shy from using other forms of media like images, video, audio and data. You'll get to learn about health and technology and get access to clients who are changing how we deliver and understand healthcare.
OneSpace is looking for content writers experienced in creating English content that caters to an audience from one of the specified countries and relevant to small business and accounting topics for enterprise brands. The ideal candidate should be able to provide samples of published content for reference. Accounting knowledge needed for at least one of the following: India, United Arab Emirates, South Africa, Singapore, Philippines, Malaysia, Hong Kong, Mexico.
BloomJoy is looking for remote freelance writers, editors, and internet junkies to help our fast-growing multi-channel syndication network that spans more than a dozen properties and caters to a variety of interests for an audience of more than 30 million monthly readers.
You'll be responsible for creating premium, engaging content, with an eye towards humor.
The successful candidate will have peerless judgment, sharp communication skills, and perhaps a somewhat unhealthy obsession with staying ahead of the shifting landscape of social media and the internet.
Elite Daily is seeking creative remote, part-time writers to contribute thoughtful content on health/wellness topics to the site's "Life" vertical.
Writers should be passionate and ready to produce content about issues related to health/wellness, which can include anything from mental health, "science says" stories, eating/sleeping habits, menstrual cycles, even what healthy poop should look like. (No topic is off limits!)
The editorial team at Valnet Inc. is looking for a writer to contribute list-based buzz articles for TheTalko.com. TheTalko is a site geared towards women covering topics like entertainment, fashion, love and health.
Are you a dynamic and driven writer, who is dedicated to staying up-to-date with the latest viral trends? If so, then you are just what they're looking for at TheTalko! As a freelance writer, you will create original, informative and eye-catching articles that their audience is craving to read.
Author:
Noemi Tasarra-Twigg
Editor of Splashpress Media, writer, and geek bitten by the travel bug.