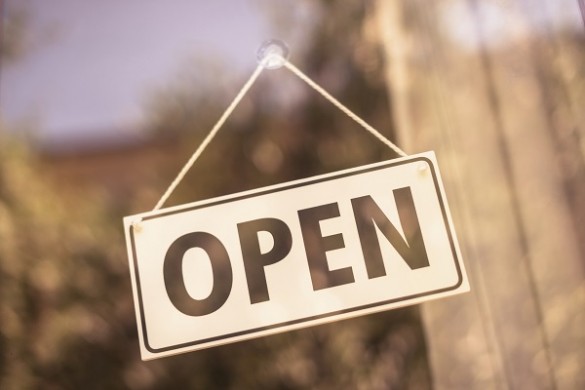 Cold emailing is a good method for freelance bloggers to find new and better paying clients, provided:
⦁ Compelling subject headers are used
⦁ You write emails that command attention
⦁ Emails are sent to the right people
⦁ A number of follow-ups are sent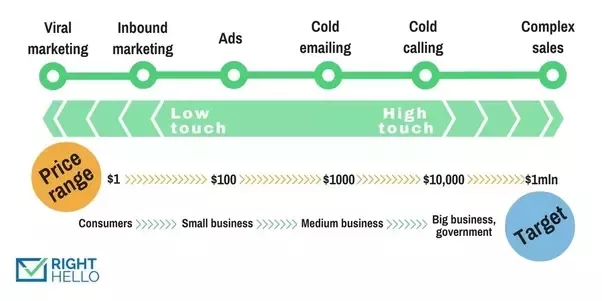 The effectiveness of cold emailing according to price range and target.
To get these four elements right, there are steps that need to be followed:
#1: Know your niche
In cold emailing, depending on who you're pitching, knowing your niche intimately is a double-edged sword:
⦁ Higher paying prospects tend to understand the value of writer specialisation. They know that when a writer specialises in certain niches, they're also likely to understand the audience of that niche, and because of this, the writer has the ability to compile superior content that gets better marketing results.
⦁ The effectiveness of email sales copy that is sent to prospects is dependent on who your target audience is, so if you don't understand your own audience exceptionally well, the interest generated from your email campaign will be minimal, and you would have wasted time and effort on a tactic that works well, provided you can captivate your audience with what's important to them.
For example, if you target writing agencies, you need to base your email copy on what's important to them, like getting better results for their clients, or providing copy that does not require heavy editing. But on the other hand, if you target small business owners who are new to online marketing, you'd need to focus on their needs, like getting more traffic to their website through the content you write.
Can you see how two different types of companies require different email copy, and that is has to be based on their individual needs? You can't give them this if you don't know what's important to them.
#2: Find cold email prospects
This is the most time consuming task of the cold emailing process. But you want to do it well, because if you look at MailChimp statistics, depending on the industry you're going for, your open rates will be between 15.22 and 28.46%.
The best way of finding prospects, is by knowing the role of the person who makes the content decisions. This will differ for each industry and company. For example, if you planned to approach writing agencies, you'd want the email addresses of the CEO, founder or director, but if you're targeting big corporates, you'd need to look for people who have the role of "marketing manager" or similar.
Once you know the variances of the titles of people who make the decisions about content, look for actual people with those titles. Try:
⦁ LinkedIn for free search of the actual people who currently work in the role of your ideal prospect.
⦁ Company websites – look for team members or names in company website "About Us" pages.
#3: Get the prospect's details
The next task is sourcing the prospect's details like their email address, location, social networks and title.
Voila Norbert makes this a little easier – all you need is to plug in the name of the person and the domain of the company they work for, and the software spits out their email address:

Add the name and company domain and the software provides the email address.
In addition, data enrichment provides:

⦁ The job title of your prospect
⦁ Their employer/company name
⦁ Location
⦁ Their social networks
Knowing these details, you can check if there is something useful to use in order to personalize your email, which boosts response rate.
As long as you put some thought into it, these personalization ideas work well:
⦁ Compliment a piece of content your prospect compiled, but do make sure your compliment is sincere.
⦁ Mention something about their hobbies or interests.
⦁ Compliment an accomplishment.
#4: Plan and write the emails
This step is where real copywriting prowess and marketing strategy come into play, because to get the best results, it is necessary to:
⦁ Create a sequence of emails; the plan being to send each one at a different, but optimized time based on the location of your prospect and their industry. Example of an effective sequence:
⦁ First email: send Tuesday at 09h00
⦁ Follow-up email 1: send 1 day later at a different time, giving the same message as the first email, but in a different format
⦁ Follow-up email 2: send 2 days later, simply restating your original call to action
⦁ Follow-up email 3: 4 – 5 days later, send the break-up email, playing on their psychological need to avoid loss
⦁ Follow a tried and tested formula for cold email copy, like the Problem-Agitate-Solve formula often used by copywriters:
⦁ Problem: find a pain point
⦁ Agitate: rub that pain point
⦁ Solve: provide a solution
⦁ Write copy that a) compels prospects to open your emails and b) gets them to interact with you instead of simply aiming to make sales, because when someone responds to your email, that means they are interested enough to start a conversation with you.
Let's go deeper and find out what good content actually means…
What is compelling copy?
Compelling copy begins with the subject line of the email: if the subject line is not tantalizing enough, the email stands a chance of not even being opened. This is where step #1 is essential – you can only write a titillating subject header if you know your audience well enough to grab their attention.
Here are three email subject header formulas you can try by Email Sales Machine:
⦁ Innovative [System/Process/Product] + [Benefit] E.g. : 25% of Harvard students aren't getting jobs
⦁ Introducing [Technique/System/Process] + [Benefit/Mystery] E.g.: Introducing the "Picasso": How to design if you suck at design
⦁ [Percentage] + [Blank] E.g.: Innovative software triples conversion rates
#5: Use an email tracking tool
You can send the emails yourself (actually, it may be better to do that if you plan to personalize them a lot), but it can get a bit difficult, because you'll need to time the emails and then make sure you send the next batch on the right day and at the best time.
When you use an email tracking tool like Woodpecker.co, life is simplified because:
⦁ All you have to do is upload an Excel spreadsheet that contains the details of your prospects
⦁ Add the email templates and personalize the information
⦁ Schedule the emails
⦁ Track opens and clicks so you know which emails performed the best
#6: Analyze results
If you don't analyze the results of your cold emailing campaign, you won't understand what worked, what didn't and what can be improved.
Analyzing cold email campaigns means checking what can be optimized for better response rates next time. With some cold email software, you can even perform A/B tests (which version of the email performed best) by changing one element for the purpose of testing.
Check how effective different subject lines were by the amount of opens, whether CTAs worked well, button texts and other variables. Questions to answer include:
⦁ Which emails had the highest open rates? Was it because of the subject header or maybe the day and time the email was received?
⦁ Which emails had the highest response rate? What factors could have influenced that, i.e., was it the copy of the email, or CTA?
⦁ Which emails got the highest clicks? What about that particular email achieved the most clicks?
The purpose of scrutiny is to make continual improvements in order to continually increase desired outcomes.
Summary
Cold emailing has proven to be one of the most effective ways for freelance bloggers to get more business, but there is an art to it: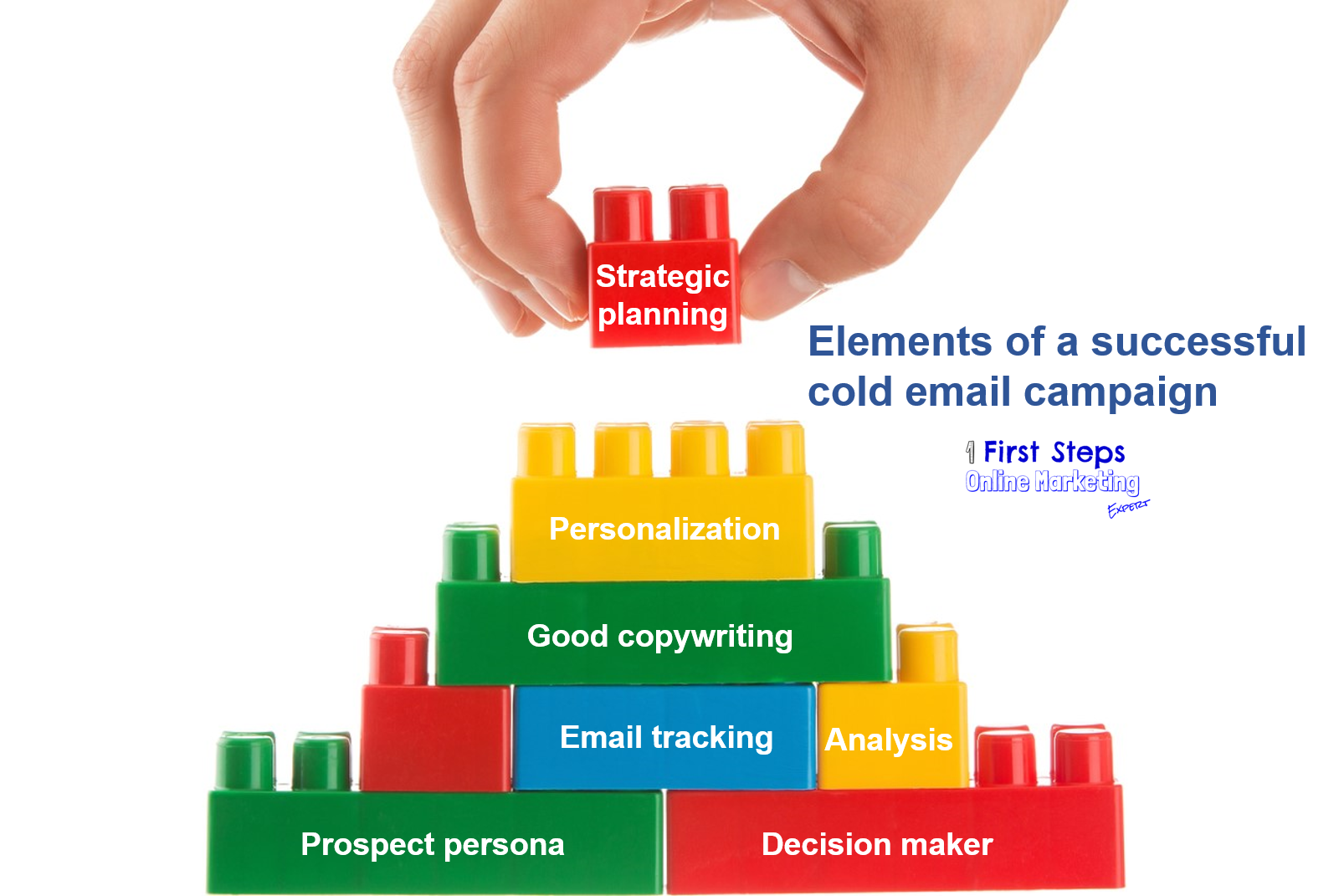 Image Credit: FirstStepsOnlineMarketing
⦁ You must know the persona of the people you are targeting
⦁ The email addresses used must be addressed to decision makers
⦁ It involves strategic planning
⦁ Good copywriting skills and copy that is based on the decision maker persona
⦁ Personalization
⦁ Cold emailing tracking tools simplify the process and track results
⦁ Keep making improvements based on results analysis