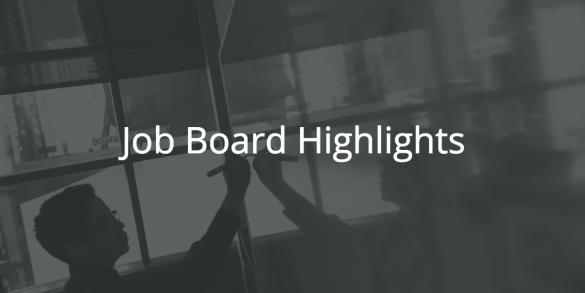 Good morning, job hunters.
Here are the best blog writing jobs – and more – from our Job Board.
Paid blogging jobs
FOODMatch is seeking a self-motivated, creative team player who drives sales and supports marketing goals by developing messaging platforms for consumer segments, B2B partners, labels/packaging and new product/campaign launches.
The successful copywriter will be able to consistently and accurately position FOODMatch products, practices and ideas as industry-leading and high quality.
Xxtra Special & Free is the #1 public affairs, media and policy platform created specifically for women of color by a woman of color. With our diverse team of creative and professional talent, we create content that educates, informs, profiles and positively advances the public affairs and policy interests of multicultural women.
Xxtra Special & Free is seeking experienced freelance writers to cover public policy and news of interest to women of color. Coverage will include a variety of topics such as health, education, jobs, science/tech, art/culture, leadership and professional lifestyle.
Elite Daily is hiring a remote Part-Time Sex & Dating Writer to contribute to the sex and dating vertical, from "how to get over a breakup" to "how to care for your sexual health" and everything in between.
They're looking for someone who has a finger on the pulse of trends and conversations surrounding sex and dating. You should know the pressing, unique questions that millennial women have about single life, dating, relationships, breakups, sex, and sexuality.
Natural Health Sherpa is an online health publishing company. Every week, they release engaging and interesting articles on health that motivate readers to continue working towards their goals. These articles can cover a wide range of topics, from motivation to the psychology of success.
Right now, once a week, they publish what they call an authenticity article. The purpose of this piece is to elicit a reply from readers.
Blavity, Inc. is on the lookout for new leaders. Blavity is a venture backed startup based in downtown Los Angeles reaching over 30 million multicultural millennials per month.
They are looking for a Premium Content Editor to develop and produce premium editorial content for the brand.
Author:
Noemi Tasarra-Twigg
Editor of Splashpress Media, writer, and geek bitten by the travel bug.