Article marketing is dead.
Long live article marketing?
This off-page optimization tactic was once an integral part of every successful SEO campaign.
The rise and fall of article marketing
The concept behind article marketing is building links through creating content at sites with high PR. The links are normally found at the byline of the articles.
Online businesses hired writers on the cheap to produce articles by bulk. Once they receive the articles, site owners uploaded these on article marketing sites. It will take within the week before the site published the article.
The results were palpable as the articles published on these sites ranked on Google search just days after publication.
As article marketing is picking up steam as an effective SEO tactic, so did the misuse of this tactic.
SEO gurus beat this tactic to the ground by publishing crappy articles on the sites at the same time. They also published the same article on different sites. This created duplicate content issues among the sites.
As a result, content from article marketing dominated search results.
It would be sufficient if the content provided value to users. Instead, the articles were run on the mill and provided generic content.
Instead of providing search engine users solutions to their problems, there were presented with even more problems.
Google took swift action in the wave of low-quality content from article marketing sites. The search engine rolled out the Farmer update in 2011 that penalized sites hosting low-quality articles from the rankings.
Four years later…
The aftermath inspired more algorithm changes that were meant to uphold the best SEO practices.
Four years after, sites like Ezinearticles were never able to recover from the onslaught, ranking-wise.
But what does it look like from the inside?
In this post, we will try to uncover the state of article marketing sites of today. Most of the sites soldier on despite the massive losses in traffic and negative reputation throughout the years.
Before we begin…
One thing that we hope to see from article marketing sites is how much different they are now compared to their peak years.
Since the idea of article marketing is no longer effective, the site should have at least found a way to tap into their community and turned a bad situation into something good.
There are sites that shed away with the stigma article marketing and started out anew. One of those sites is Buzzle.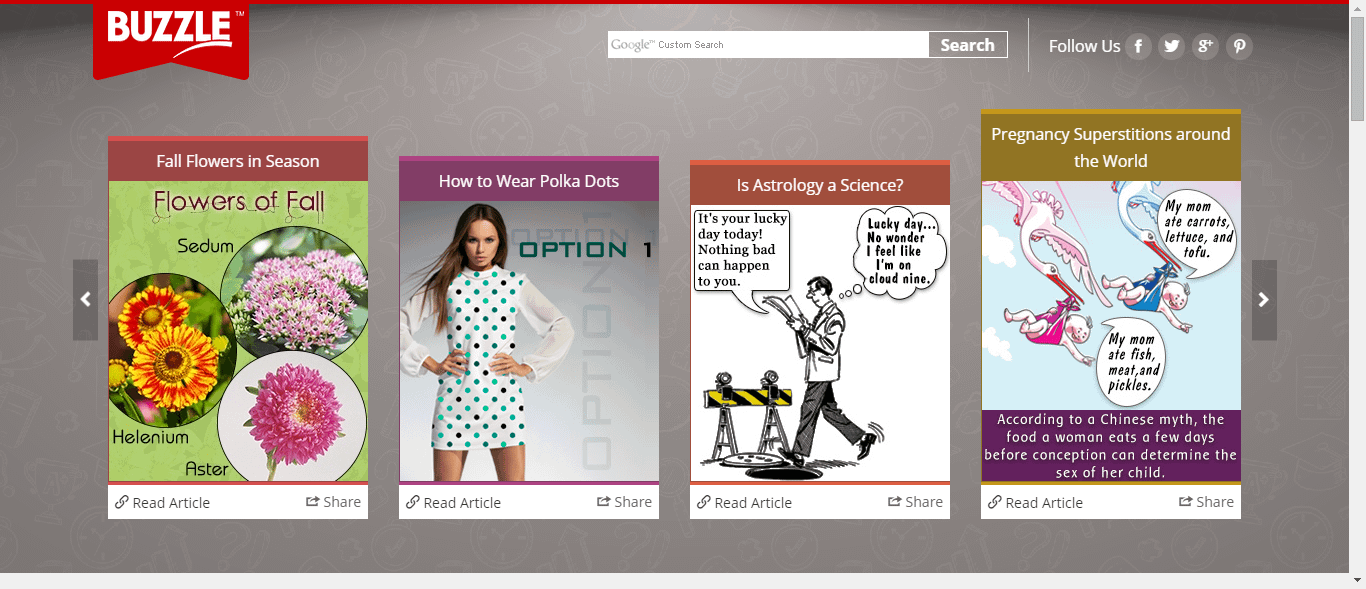 The site no longer relies on user-generated content to power its site. Buzzle now has in-house writers to provide content.
People can still register to become an author, but only to iBuzzle, the non-fiction sister company of Buzzle.
An article marketing site that seemed to have bitten the dust is GoArticles.
What I'm trying to say is that article marketing site should no longer cater as an SEO product. Rather, it should be presented as something else instead.
What that "something" is, we have yet to find out.
But we will never know what is up with these sites unless we take a closer look at the most infamous article marketing sites.
Let us start with the site synonymous with article marketing.
Ezinearticles
There is not much difference from the site design now compared to years ago.
The difference users will see from the site's dashboard is how it is not completely about article marketing.
Upon logging into my old account, an opt-in box greeted and linked me to the products page.
The site now offers article template packages to users. The reason behind the product is that site owners like you may not have time to craft well-written articles from the ground up.
The template packages are available to help build your article from a pre-made template. All you need to do is edit the template to fit in your message.
Doing this allows you to focus on writing your ideas and automate the storytelling process!
The only caveat I can think of is if your competitors are using the same templates to write their content. You may end up having similar articles after publications. This is where the power of editing the templates comes in. It ensures that your post will be unique and personal enough to be similar with other sites using the same tempaltes.
I have not tried out the template packages yet. But the rationale behind them are sound enough for people to consider using them.
Aside from the products, Ezinearticles has a Challenges feature.
This section encourages users to write more articles on the site. Once the Challenges are finished, you receive a badge on your profile to show that you are an accomplished Ezinearticles users.
The more badges you earn, the more authoritative your Ezinearticles profile is.
Accomplished Ezinearticles users can use their profile as their portfolio. I am just not sure how much weight does the badges have in real life.
One thing that bugs me is the option to print a certificate that you are an Ezinearticles writer. The site is far from being an exclusive membership site. I think it is just a fun way for publishers to take pride in being a site member. But it makes little sense to give credence to Ezinearticles that lets people sign up an account for free.
Regardless, the Challenges are a fun way to build sample works of articles that you can use to showcase your skills to clients.
Your articles are also a great way to build an influence within the community of users. If they like your article, there is an option for people to follow and like your posts.
Speaking of communities, Ezinearticles has turned to its community as its lifeblood. The site as an article marketing site has become an unattractive option. The same problems that plagued article marketing of years past still exist.
But there are small strides in building a more conscious and self-aware community that connects publishers. People can start conversations with other users, which I have done below:
It took me two weeks to get a reply, but at least someone did!
Ultimately, I consider Ezinearticles more of a curiosity at this stage than anything else. Since it is no longer a powerful SEO tactic it once was, it resorted to building a community to help publishers connect with each other.
But it is still a long way to go before the site kicks into high gear. The article published in the site still leave a lot to be desired.
The Networking feature is not as vibrant as it could be.
Aside from Ezinearticles, there is one site that has the potential to grow into something more than just an article marketing site.
Infobarrel
Unlike other article marketing sites, the site gives you the opportunity to earn from your content via the IB ads systems. You will earn 75% of the ads revenue that were generated from your content.
This model encourages publishers to promote their content on different online channels to increase views and possibly clicks on the display ads.
Based on the quality of content and topics published on the site, I'd say Infobarrel is quite successful.
The really cool thing about Infobarrel is the community it fosters. The site has a very active forums page, where users new and old ask questions and contribute answers that add value to the community.
To put the cherry on top, Infobarrel holds monthly contests. The site will increase the ad shares of the top three performers in the contest. This encourages users to put out awesome content day in and out!
Overall, Infobarrel is heads and shoulders above other article marketing sites simply it is more than just a marketing site.
Users can learn a great deal from the interesting content published in the site. Also, the community and contests provide an incentive for users to network with others and publish the best content possible.
Final thoughts
At this stage, article marketing sites still hangs on for dear life as a marketing tool. In general, marketers are better off using proven tactics to help shore up their sites or blogs. But there is still good in article marketing sites as a platform for thought leadership and community building.
Whether or not these sites adapt to the needs of marketers to build relationships and connections, it is hard to tell.
For hardcore article marketing site users out there, please weigh in your thoughts in the comments section. There are things I may have failed to touch upon that you want our readers to know.
More on article marketing: