Best Cloud Storage for Business Bloggers
These days, cloud storage for business bloggers are virtually everywhere. What initially started as an innovative way to share, manage and back up files has gradually turned into a standard, every-day commodity for internet users.
With so many cloud storage solutions on the market, how can you choose the best option for our website?
First, it's important to know why cloud storage is an essential part of every blogger's long-term success, especially if you manage a large website that's frequently updated.
Main Benefits
Increased security: Store any type of file on super secured servers, not merely on your vulnerable computer hard drive. This is perfect for busy bloggers with multimedia properties and services like membership sites.
More flexibility: As a blogger and entrepreneur, you are well aware of your website's constant maintenance and updating. Effectively sync your files (such as articles and large multimedia files) across many devices – including mobile. This allows for increased productivity as you travel, taking your work anywhere you go.
Collaboration: Most cloud storage solutions allow you to share files and folders with others. Better yet, any modification made is instantly available for everyone. No more sending files manually via email or through other cumbersome methods.
Peace of Mind: Other useful benefits include automated backups, easily-accessible restorations and "versioning", which backs up only data that has been recently modified.
That being said, let's take a quick look at some of the best cloud storage providers based on overall usefulness and popularity among end-users.
Google Drive
Google Drive is, without a doubt, a robust fan favorite. After all, almost anything that Google touches turns into gold thanks to their deep pockets. And with 15GB of free storage, this option is simply hard to ignore.
You can also save virtually any file type you wish and access it from a wide range of devices and systems such as PC, Android, and iOS. As a blogger, its collaboration options allow you to send documents to your staff or freelancers, and its various Chrome plugins help extend the amount of editing each one can do.
JustCloud
In addition to everything mentioned about Google drive (including mobile synchronization features) JustCloud is one of the better cloud storage providers out there at the moment.
Its main advantages lie in features like hourly backups, priority support, network drive support and flexible pricing options. Can't afford to pay a hefty annual fee? No problem; JustCloud provides payment plans on a monthly basis, as well as 6, 12 and 24 month intervals.
IDrive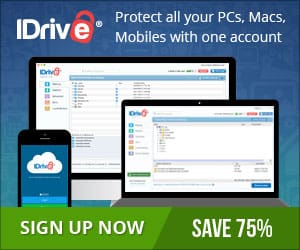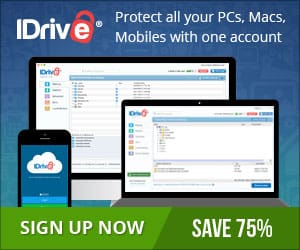 Among the best cloud storage providers for business bloggers, IDrive is admittedly our personal favorite – and for good reasons.
For starters, its extra storage offerings are generally less expensive than that of Google Drive and several other alternatives. Its 1TB package, for example, is conveniently available at less than $60 per year (and even better through its limited time, 75% off discount).
To give you a much better understanding of why we chose this solution over the rest, here's a list of many of the features we've come to enjoy as professional bloggers:
Back up and restore your data remotely from an easy-to-use Web console
Superb social sharing integration with platforms like Facebook, Twitter, LinkedIn and others
Easily back up Facebook and Instagram photos & videos, a highly recommended option if you take social media seriously as a blogger
Receive activity reports related to backups and sharing, keeping you and your website's staff better informed
For webmasters who need unmatched security, IDrive's business solutions allow for database and other server backups. We can't stress how important this is as your website gets bigger and more robust
The benefits don't stop there, but the above closely relates to the potential needs bloggers could benefit from. This, combined with a whopping 75% off throughout the end of the month, what's not to love?
Though the above services are among the best, it's also worth noting some other popular ones:
Honorable mentions
SugarSync: Easy to use, and comes with a long 90-day-trial, which gives you plenty of time to test all features thoroughly.
DropBox: Not as beefy as the rest, but it has some good features like Microsoft Office 365 integration.
Conclusion
In the end, the best cloud storage providers for bloggers will highly depend on the specific features you need.
If your publishing needs are expanding, we highly suggest you try this humble IDrive deal (currently 75% off) made exclusively for the BloggingPro community.
Also don't miss: