Email marketing is a great non-disruptive way to reach out to your target audience. It all starts with creating an irresistible opt-in form that will compel your blog visitors to sign up to be part of your list. From here, you must craft campaigns that will keep them subscribed and engaged to your content for as long as you like. The campaigns can range from delivering subscribers weekly newsletters of your blog's latest posts to selling them your products and services!
In order to get this done, however, you need to choose from the best email marketing platforms that will get the job done for you. Below are some of the best ones available and a short breakdown of each tool.
Similar to MailChimp, GetResponse boasts a sleek user experience that is suitable for beginning email marketers. To get a better feel of this email marketing platform, it provides you a free 30-day trial gives you access to all its premium features (autoresponder included). I guess the strategy here is to get people's feet wet using GetResponse so that when the 30-day trial runs out, they'll be more than willing to pay for the monthly fee and stick it out with this tool.
To its credit, the monthly pricing is as reasonable as it can get in comparison to other email marketing platforms.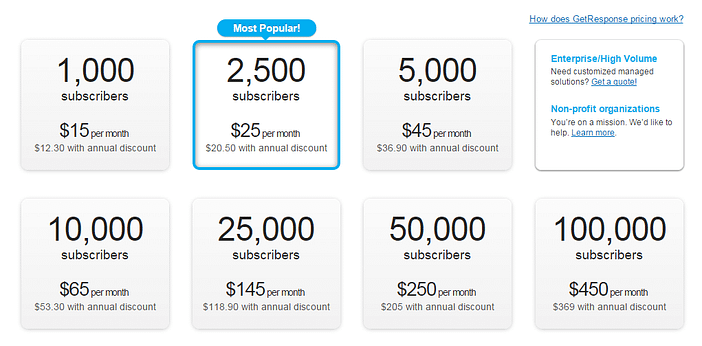 Given it's pricing, it's the most affordable among all email marketing tools out there. The autoresponder feature is benefits from its straightforward and simplistic functions perfect for beginners. Also, setting up split-testing of email campaign with advanced features has never been this easy.
One of the oldest and most trustworthy email marketing brands around, Aweber continues to deliver the goods after years of providing excellent service to marketers. Building off this, arguably the best and most notable feature of this platform is it's customer support that provides solutions to your problems in using the tool with the fastest response.
Another plus with Aweber is the simple process of setting up an opt-in form for your email list. On top of this, you also have 600+ professional and beautiful email templates to choose from, the most . You can customize each template to fit your branding and to increase open rates.
On the downside, considering that it's one of the oldest email marketing platforms out there, its user interface is far from being the friendliest compared to others. Also, the $1 30-day trial does not give you access to its autoresponder feature, which is an important tool that marketers should have access to see how Aweber works in full force.
This quirky email marketing platform is a popular choice among email marketing beginners. The simple reason is that everybody can register for a free account without time restrictions – no 30-day trials nor monthly fees (unless you reach more than 2,000 subscribers). While the autoresponder feature is not included in the free account, Mailchimp's strategy is clear: get people to build a substantial amount of leads and subscribers and retain them once they reach the limit.
Upon registering, you get to enjoy the tool's intuitive user interface with easy to navigate pages and a drag and drop mail builder that's a breeze to use.
The only thing going against it is the pricing. Compared to both Aweber and GetResponse (below), MailChimp's monthly fees are quite expensive.

One of the bulkier email marketing platforms that's best suited for bigger brands, iContact has the complete solutions for your email campaign needs. The brand is split into three divisions: iContact, iContact Pro, and iContact for Salesforce. The latter integrates iContact with one of the leading CRM tools online to provide you a comprehensive marketing automation tool, where email marketing is just part of your sales pipeline.
For argument's sake, we shall stick with the iContact. As a platform where you can send out and track the performances of your email campaigns, this tool is more than capable to shoulder your demands of reaching out to your target audience. The pricing also compares favorably with GetResponse.
Similar to Aweber, however, iContact's text editor is clunky and suffers from errors due to its outdated interface. That being said, there's a learning curve that needs to be mended in order to successfully use this platform.

If you want to go big with your marketing campaign (email included), you simply can't go wrong with Salesforce Marketing Cloud. It has all the tools and resources a marketer needs to be successful at his or her craft. The best feature of this tool is the amount of autoresponders you intend on running for your business using the tool's Automation Studio. This feature alone can help you build a customer lifecycle that will help you attract new customers and retain them over long periods of time.
When it comes to reporting, however, SFMC suffers from providing campaigns reports that's tailored for beginning marketers. One will have to edit and customize the report to show the desired results from the campaign, and even getting this done is not easy to do. Suffice to say, the tool needs more work on being more user-friendly if it wishes to attract more marketers to use this tool.
And the winner is…
Depending on your needs.
If you want the most affordable email marketing platform that will provide you comprehensive features, then head on to GetResponse and sign up for an account.
If you're a newbie email marketer and wish to learn the ropes on how to launch a marketing campaign without being pressured by a trial period, then MailChimp is for you!
If you want a tried and tested tool to send out and track your email campaigns, then you can't go wrong with Aweber and iContact.
For a marketing automation suite that covers all the bases of what a marketer to become successful, then Salesforce Marketing Cloud is the tool for you.
Personally, I prefer GetResponse. Unlike marketing automation tools, this platform does one thing and does it quite well: send out and track down the performances of email campaigns. Thanks to its advanced reporting, it lets me create better email campaigns over time, which helps in increasing my subscribers. Also considering its affordable pricing and I now have an indispensable tool to help manage my email list!
Final thoughts: While the answer isn't probably what you're looking for, let's face it: there's no one tool that will get everything done for you. It's all up to your needs as an email marketer and which among the tools listed above answers your needs the best.