Cliché it may be, but "a picture paints a thousand words" is something every blogger should bear in mind. While content is often associated with text, visuals shouldn't be excluded from the equation. In fact, visual content elevates what you have to offer and hooks your readers in.
In the past year, we've discovered visual content tools which have not only add aesthetic value but also provided easier presentation of concepts. Here are some of these tools which we recommend.
The best visual content tools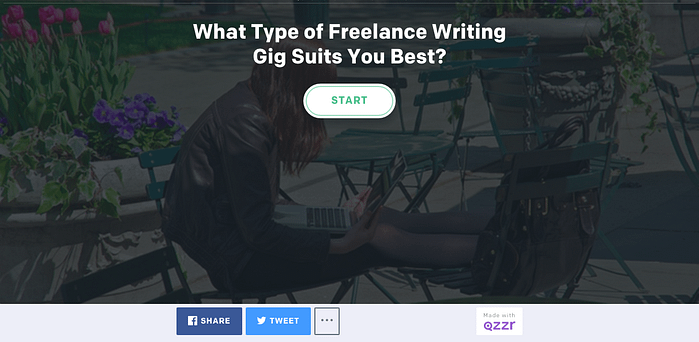 Everyone loves quizzes, even though some of them are a waste of time. However, if used correctly, your blog can reap the benefits of attracting a wider audience and longer time on site.
The key is to create quizzes not just for the heck of it, but to complement the text in your blog post. You can also create standalone quiz posts.
Qzzr makes this easy, and it looks good. You can add background images, make different types of quizzes (yes or no, multiple choice, etc.), and the interface is simple.
Stock images are usually boring and bland when used on their own. You can always take your own photos and use them in your blog posts, but if you want to add variety to your images, Pablo is a great choice.
It's created by Buffer, my preferred social media management tool. The beauty of Pablo lies in its simplicity.
You can use the available images on offer, or you can upload your own. You can also edit the text, add a custom logo, and choose the size of your image to suit your specific need.
Once you're satisfied with your image, you can either share it or download it for use on your blog.
Canva is one of the most popular visual content tools also because it makes a designer out of anyone. Even though you have the barest knowledge of design software, you will be able to use Canva without breaking a sweat.
It holds your hand from start to finish – choose from default designs and sizes, upload your own images, add text, and save images. You can also create custom sizes, which I find convenient.
When it comes to engaging your users, maps are one of the best things to use. They are particularly convenient for blogs that focus on specific niches.
The great thing about Mapme is that you only have to create a map about a topic and then engage your users to add their contributions. The user-generation concept makes it appealing.
Additionally, Mapme has customization features such as adding your logo, which is great for branding.
Embedding maps in your blog posts will definitely up the ante, and Mapme will help you do that without much effort on your part.
Wrap up
Incorporating useful and beautiful visuals in your blog posts should be in your agenda this year. Even if you've always used images, consider the tools above to take your blog one step further.
Do you have your own selection of visual content tools? Share them with us!