Your approach to writing and publishing your blog content is key. The actual process seems very cut and dry, but the standards set by your competitors' posts that drive traffic in drove, are shared by thousands, and rank atop their target keywords in search results are absurdly high that it puts your approach in writing your posts into question. Are you doing it correctly? Will it be enough to achieve the same results like the posts set before you?
You may arrive at a stage when you're doubting not only your approach, but also your skills. This is a necessary step that all bloggers need to undergo to improve their craft and become better blog content writers. All you need to do now is learn the different techniques and strategies applied by successful blog content so you can emulate them when you start drafting up your blog content.
Below are some of the more popular and effective ways of creating blog content to achieve your online goals.
at Backlinko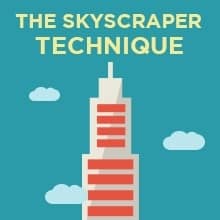 Link building is arguably the most important off-page SEO factor that marketers need to focus on in order for their websites to increase their rankings on search results. By ranking at the highest order as possible, they increase their chances of getting clicked on by their target audience, leading to increased site traffic and the possibility of turning visitors into leads or customers.
Keeping these in mind, Backlinko's Brian Dean developed the Skyscraper Technique. In this technique, Brian combined the principles of content creation and blogger outreach to publish irresistible linkbait content for your target readers. The approach involves finding proven content within your niche and building on those in order to create indisputably better content. The technique has grown in popularity over the years as a lot of bloggers attest to its effectiveness.
at Blogger Sidekick
Seems strange to see the "Shake and Bake" tandem of Ricky Bobby and Cal Naughton Jr. in a post about writing, but it'll make sense once you read this excellent article by Will Blunt.
Since content with more than 1,000 words perform well at search results, the biggest challenge now for writers and bloggers is to squeeze in as much time in creating lots of this content type into their schedule. Obviously, writing posts of this magnitude can take days to finish, considering that you also promote the post at different online channels.
The post at Blogger Sidekick creates a systematized process of writing content that trims down the time usually spent in this task. It features specific tips for each steps involved in the writing process. In particular, it slightly borrows from the Skyscraper Technique by taking the best information from different blog posts related to the topic you're writing (as part of the "shake" process) and rewriting them so that your post will have the best aggregated content from the resources you've found (the "bake" process).
At the end of the post, you can download the "Write Like A Boss Bundle" containing the checklists mentioned in the post to help you expedite the blog content creation.
at SEMrush
This post takes the concept of building high quality backlinks using your newly created content before you even write your posts.  This is done by moving up the link building process after generating topic ideas for your latest post. The purpose of doing this is to ensure that your post will provide answers to the questions asked by users and bloggers you've found in your research. This gives you cause to reach out to them for a backlink from their site using your new content.
Final thoughts: The blog content creation ideas presented in this post should help you come up with different approaches to building your very own epic content. In fact, you can mix and match approaches using the tips mentioned in each of the articles above to come up with an even more superior blog content creation strategy that you can use to dominate over your competitors.