Blogging has become a major force in the last decade and we have seen many new uses for blogs. Many of us have successfully managed to make a living from blogging and there is no doubt that blogging will stay popular in the next decade.
But as blogging continues to mature, we have also seen several 'content trends' over the last years and hope that these trends will disappear as soon as possible again.
'Twitter is down' Entries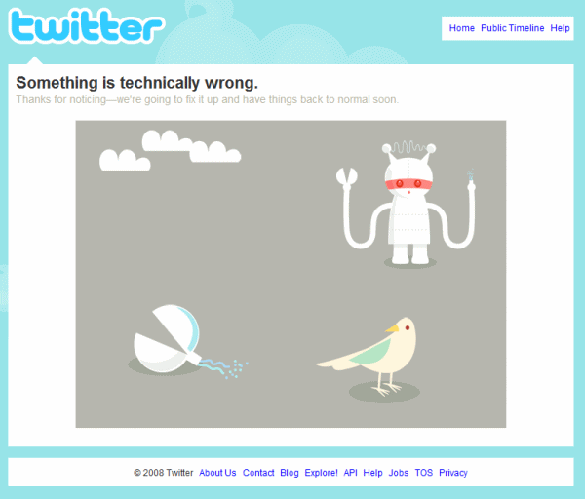 There are two reasons why we do not want to see these entries anymore. The first one is of course because we do not want our favourite networking platform to be down too often.
But the real reason why we do not want to see these posts is because there is no news value in this kind of entry. Maybe if you are a highly frequented tech blog or social network watchdog site you can get away with it, but the general rule is: we know that Twitter is down. If Twitter's down, we can see it on the Twitter website, read all about it on Facebook, forums and our desktop client will notify us that something went wrong. Thanks for stating the obvious and adding to the noise.
If you really need to report that Twitter is down, tweet it!
Boring News Reporting
As it became apparent that there was money to be made from blogging, many bloggers started to increase the pace and produce more and more entries every day. Some years ago this was a great recipe to rank in Google and get traffic. Ad rates were better too, times change.
The biggest problem with this approach is that along the line many bloggers have lost their unique voice and started to produce boring news, turning their blog into 'classifieds farms'.
What made blogs interesting to read in the first place was their personal approach. Blogging is about your view, often a very opinionated experience. Make sure to add your voice to the game, state your opinion.
When reporting news, come with an interesting point of view, ask the reader a challenging question, provoke your readers. It's what sets bloggers apart from the 'Old Media' who are adding blogging more and more to the tasks of their journalists.
Stupid, Dumb Lists
The irony here is that I add 'boring lists' to a list of entries we do not want to see anymore. But there are two types of lists: useful lists serving as reference material and lists, without any real value, written mainly to generate massive traffic. Although there might be a great business model in being a popular list incubator, most of the time these lists bring nothing to the party and are quickly forgotten again.
Instead, if you really want to write lists, make them interesting. Make the reader think, provide your readers with information on why you add items to your list. Because this means that you will provide actual content, it is better to keep your list shorter. Compelling content does not need to compete for the 'Longest List Ever' award. Readers can only digest that much information at once and often adding too many items to your list will diffuse the value of your 'list'.
Even 'short lists' can become evergreens in your site stats, fe. this list I wrote more than two years still ranks among our most popular entries on BloggingPro.
Less can be more.
Photo credit: Pete Boyd.
One Paragraph Entries
Sharing content online has become easier than ever and there really is no need anymore to create an entry to highlight a cool plugin you just discovered, a nice theme you saw or report quick-fire news. What could have worked 2 years ago has now totally been replaced by microblogging. If you follow BloggingPro on Twitter you will regularly be notified of great content, links and plugins we discover and read elsewhere.
New platforms like Twitter and Facebook pages also annihilate the need for 'roundup entries', entries mainly consisting of links to other sites. See what I did there?
Stop Writing About What You Think Your Readers Want
Unless you are preparing the launch of a series and want to cover every possible approach to your topic, do not write something because you think your visitors might want to see it. Know that you are writing interesting content and adding value to your site. Like Dan Cederholm said:
I'd like to post here more often – not just to fill up bits and bytes, but to write again. Remember when blogs were more casual and conversational? Before a post's purpose was to grab search engine clicks or to promise "99 Answers to Your Problem That We're Telling You You're Having". Yeah. I'd like to get back to that here.
The reason you blog about a certain topic should be because you enjoy your subject and can bring something to the party. Instead of crafting this piece of linkbait, go out there and show your readers that you do know what you write about. Then they will ask you questions and you have the opportunity to once more prove your knowledge in the comments or in a new entry.
2010 The Return of Content
Instead of writing for search engines, make next year 'The Year of the Return of Content'. Do not write 10 entries/day because you have to for Google, instead write one great entry every day. Enjoy what you do and be proud of every entry you write.